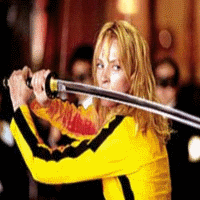 Beatrix Kiddo (The Bride)
CBUB Wins: 11
CBUB Losses: 15
Win Percentage: 42.31%
Added by: Mullon
Read more about Beatrix Kiddo (The Bride) at: Wikipedia
Official Site: Miramax Films
Beatrix Kiddo, primarily known as "The Bride", is a fictional character and the protagonist in the movie Kill Bill by American director Quentin Tarantino. She is portrayed by Uma Thurman and was selected by Empire Magazine as one of The 100 Greatest Movie Characters of All Time.
The Bride, codenamed "Black Mamba", is a former member of the "Deadly Viper Assassination Squad", an elite, shadowy group of assassins. A formidable, ruthless warrior trained under martial arts master Pai Mei (Gordon Liu), she served at the right hand of Bill (David Carradine), her boss and lover, a position that provoked the furious envy of Elle Driver (Daryl Hannah), who was also Bill's lover.
Kiddo, a master of the Tiger/Crane style of kung fu, is the only Viper to learn the "Five Point Palm Exploding Heart Technique", a method of killing a person by quickly striking five pressure point around the heart with the fingertips. After the victim takes five steps, the heart explodes and he/she falls dead. Pai Mei supposedly refused to teach this technique, which was said to be "the deadliest blow in all of martial arts", to Bill or anyone else. Kiddo's determination wins his respect, however, and he teaches her the forbidden technique - a secret that Kiddo withholds from Bill until they meet for their final showdown.
Kiddo is first seen on the day of her wedding rehearsal in rural Texas, living under the name "Arlene Machiavelli", having previously left Bill and abandoned the Vipers. Bill finds her, however, and gate-crashes her wedding rehearsal with the other Vipers and murders everyone inside. Bill then shoots her in the head, leaving her in a seemingly irreversible coma. She remains comatose for four years, during which she is repeatedly prostitute and rape by an orderly named Buck (Michael Bowen).