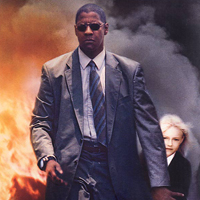 John Creasy
CBUB Wins: 0
CBUB Losses: 8
Win Percentage: 0%
Added by: agustinaldo
Read more about John Creasy at: Wikipedia
Official Site: New Regency Pictures
Man on Fire is a 2004 American action film based on a novel of the same name by A. J. Quinnell, that had previously been filmed in 1987. The film was directed by Tony Scott and starred Denzel Washington. It received mixed reviews from critics but was a commercial success. This movie inspired Indian Director Apoorva Lakhia to make the movie Ek Ajnabee (A Stranger) which is a remake of Man on Fire.
In Mexico City, criminal gangs are kidnapping rich families' children for the lucrative ransom money. On the advice of his lawyer, Mexican businessman Samuel Ramos, like other men of wealth, hires a bodyguard to protect his nine-year-old daughter Lupita "Pita" Ramos and to be able to renew the family's ransom insurance. The head of an executive security firm, Paul Rayburn, suggests that Ramos hire Rayburn's old CIA colleague John Creasy. Ramos is impressed with Creasy's résumé, which includes a variety of counterinsurgency and counter-terrorism activities. Creasy, however, has since become disillusioned and uninterested in life. He is burned out from all the death and horror, and has taken to alcoholism to ease the burden.
Creasy is not interested in bodyguard work but needs a job. During a night of heavy drinking, Creasy attempts suicide, but his gun jams. Considering it a sign to live on, Creasy finds himself opening up to the comforting Pita. He replaces her parents in their absence, giving her advice and coming to her swimming lessons and competitions. He helps her overcome her fear of starting guns, turning it into an eagerness to move at the sound of one. Pita gives Creasy an emblem of St. Jude, the patron saint of lost causes, saying she bought it for him with her own money.
Shortly after delivering her to a piano audition, Creasy notices a suspicious vehicle driving past and a pair of police cars blocking off the street. As Pita emerges from the building and freezes, Creasy pulls his gun and fires a shot into the air, similar to a starting gun, startling the child into running away. During the ensuing gun battle, four of the attackers are fatally shot, including two corrupt police officers. The battle leaves Creasy wounded and unconscious, allowing the surviving kidnappers to grab Pita.