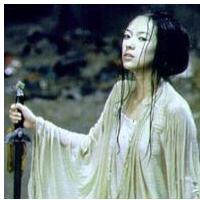 Jen Yu
CBUB Wins: 1
CBUB Losses: 3
Win Percentage: 25.00%
Added by: BlackDog
Read more about Jen Yu at: Wikipedia
Official Site: Sony Pictures
Crouching Tiger, Hidden Dragon ( ) is a Chinese-language film in the wuxia martial arts style, released in 2000. A China-Hong Kong-Taiwan-United States co-production, the film was directed by Ang Lee and featured an international cast of ethnic Chinese actors, including Chow Yun-fat, Michelle Yeoh, Zhang Ziyi and Chang Chen. The movie was based on the fourth novel in a pentalogy, known in China as the Crane-Iron Pentalogy, by wuxia novelist Wang Dulu. The martial arts and action sequences were choreographed by Yuen Wo Ping, well known for his work in The Matrix and other films.
Made on a mere US$17 million budget, with dialogue in Mandarin, Crouching Tiger, Hidden Dragon became a surprise international success. After its US premiere at the Hawaii International Film Festival, it grossed US$128 million in the United States alone, becoming the highest-grossing foreign-language film in American history. It has won over 40 awards. The film won the Academy Award for Best Foreign Language Film (Taiwan) and three other Academy Awards, and was nominated for six other Academy Awards, including Best Picture. The film also won three BAFTAs and two Golden Globes, one for "Best Foreign Film" as well as additional nominations for ten BAFTA including "Best Picture".
The film is set in the Qing Dynasty during Emperor Qianlong's reign. Li Mu Bai (Chow Yun-fat) is an accomplished Wudang swordsman. Long ago, his master was murdered by Jade Fox (Cheng Pei-pei), a woman who sought to learn Wudang skills. Mu Bai is also a good friend of Yu Shu Lien (Michelle Yeoh), a female warrior. Mu Bai and Shu Lien have developed feelings for each other, but have never acknowledged or acted on them. Mu Bai, intending to give up his warrior life, asks Shu Lien to transport his sword, also referred to as the Green Destiny, to the city of Peking, as a gift for their friend Sir Te (Sihung Lung). At Sir Te's estate, Shu Lien meets Jen (Zhang Ziyi), the daughter of Governor Yu (Fa Zeng Li), a visiting Manchu aristocrat. Jen, destined for an arranged marriage and yearning for adventure, seems envious of Shu Lien's warrior lifestyle.
One evening, a masked thief sneaks into Sir Te's estate and steals the sword. Mu Bai and Shu Lien, with the assistance of Sir Te's servant Master Bo (Xian Gao), trace the theft to Governor Yu's compound and learn that Jade Fox has been posing as Jen's governess for many years. Bo makes the acquaintance of Inspector Tsai (De Ming Wang), a police investigator from the provinces, and his daughter May (Li Li), who have come to Peking in pursuit of Jade Fox, who had murdered Tsai's wife years before. While the three are eating lunch, Jade Fox fires a dart with a written message attached to it, challenging them to a showdown that night. Following a protracted battle, the group is on the verge of defeat when Mu Bai arrives and outmaneuvers Jade Fox. Before Mu Bai can kill Jade Fox, the masked thief reappears and partners with Jade Fox to fight. Jade Fox resumes the fight and kills Tsai before fleeing with the thief (who is revealed to be Jade Fox's protegée, Jen). After seeing Jen fight Mu Bai, Jade Fox realizes Jen had been secretly studying the Wudang manual and has surpassed her in skill. After finding out that Tsai was a police officer, a guilt-ridden Jen returns the Green Destiny to Sir Te's estate but is intercepted by Mu Bai. Mu Bai easily defeats her and offers her to become his pupil. Jen angrily rebukes his offer and flees. When she returns home, Jen confronts Jade Fox and banishes her from the Governor's compound.
No match records for this character.