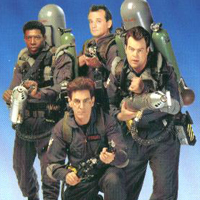 Ghostbusters
CBUB Wins: 23
CBUB Losses: 14
Win Percentage: 62.16%
Added by: agustinaldo
Read more about Ghostbusters at: Wikipedia
Official Site: Sony Pictures
Ghostbusters, titled on-screen as Ghost Busters, is a 1984 American comedy film written by co-stars Dan Aykroyd and Harold Ramis about three eccentric New York City parapsychologists-turned-ghost exterminators. The film was released in the United States on June 8, 1984 and like several films of the era, teamed Aykroyd and/or Ramis with Bill Murray. It was produced and directed by Ivan Reitman, who also directed Stripes, and stars Murray, Aykroyd, Ramis, Rick Moranis, Sigourney Weaver, Annie Potts, and Ernie Hudson. The film made US$,632,124 in the United States alone [http://www.boxofficemojo.com/yearly/chart/?yr=1984&p=.htm Boxofficemojo: Box office statistics for 1984] , the equivalent of $538,260,000 in 2010 prices, ranking the film as the 32nd biggest grossing in U.S. box office history after adjustment for inflation.
It was followed by a sequel, Ghostbusters II in 1989, and two animated television series, The Real Ghostbusters (later renamed Slimer! And the Real Ghostbusters) and Extreme Ghostbusters. Ramis, who co-wrote the first two films, has confirmed that a script for a potential third film is being developed by Gene Stupnitsky and Lee Eisenberg, the writing team best known for their work on Curb Your Enthusiasm and the American version of The Office. Ramis told a Chicago Tribune columnist in 2008 that the original films' four main cast members may have minor on-screen roles: "The concept is that the old Ghostbusters would appear in the film in some mentor capacity". The American Film Institute ranked Ghostbusters 28th in its 100 Years... 100 Laughs list of film comedies.
After losing their jobs at Columbia University, a trio of misfit parapsychologists—Peter Venkman (Murray), Raymond Stantz (Aykroyd), and Egon Spengler (Ramis)—establish their own paranormal exterminator service, "Ghostbusters." The business, operating out of an abandoned fire station (located at 14 N. Moore St. in TriBeCa), gets off to a slow start, but just as they run out of money, the Ghostbusters are contacted by the upscale Sedgewick Hotel to investigate a haunting. At the hotel, they successfully (albeit chaotically) capture their first ghost and deposit him into a "containment unit" of their own design located at the Ghostbusters office. Paranormal activity appears to be on the rise in the city and business skyrockets for the Ghostbusters, who become local celebrities and hire a fourth member, Winston Zeddemore (Hudson).
The Ghostbusters are hired by a woman named Dana Barrett (Weaver), whose apartment at 55 Central Park West is haunted by a demonic spirit called Zuul, a demigod worshipped in 6000 BC as a servant to Gozer the Gozerian, a Sumerian shape-shifting god. Venkman, who finds Dana attractive, takes a particular interest in the case, competing for her affection with her socially-inept neighbor Louis Tully (Moranis). As they look into the matter, Dana is possessed by Zuul, which declares itself "The Gatekeeper". Louis is also discovered to be possessed by a similar demon called Vinz Clortho, "The Keymaster". Both demons speak of the coming of the destructive god Gozer, and the Ghostbusters decide it would be prudent to keep the two separated from each other. However, the next day, the Ghostbusters office is visited by Walter Peck (William Atherton) of the EPA, who arrests the team and orders their ghost containment grid shut down, unleashing hundreds of ghosts onto New York City. Freed from the Ghostbusters' protective custody, Louis/Vinz begins making his way toward Dana/Zuul's apartment as the escaped ghosts create havoc throughout the city.









Images with a green border may be set as the character's main profile image.
For images 200x200 or 300x300 pixels square.
No match records for this character.