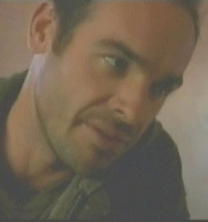 Harry Blackstone Copperfield Dresden
CBUB Wins: 8
CBUB Losses: 17
Win Percentage: 32.00%
Added by: cytorak
Read more about Harry Blackstone Copperfield Dresden at: Wikipedia
Official Site: Jim Butcher
Harry Blackstone Copperfield Dresden is a fictional detective and wizard. He was created by Jim Butcher and is the protagonist of the contemporary fantasy series The Dresden Files. The series blends magic and hardboiled detective fiction. In addition to the twelve The Dresden Files novels, he has appeared in five published short stories and several unpublished short stories, as well as a limited series comic and an unlimited series comic. He was also adapted into a character by the same name for the TV series version of the novel series, also called The Dresden Files.
Harry is a wizard who works as a private investigator of sorts in Chicago (he's in the phone book, the only listing under "Wizards"), dealing with paranormal crimes and consulting for the Chicago Police Department. He is named after three different stage magicians — Harry Houdini, Harry Blackstone, Sr., and David Copperfield. This name was given to him by his father, Malcolm Dresden, a stage magician himself, who raised Harry while still performing his magic show all across the country. The stories are told from Harry's point of view in a hardboiled style.
Harry is considered a magical "thug," lacking fine control of his power, but is one of the strongest living wizards in terms of pure magical strength, as well as factors surrounding the timing of his birth. He originally favored fire and wind spells in battle, but has since evolved towards fire and force, and has recently started using earth (It's My Birthday Too and Turn Coat), Lightning (Small Favor and Turn Coat), and has used water at least once (Turn Coat). He is also an expert at tracking spells (which he uses in his investigations) along with summoning and entrapment spells to speak to faeries and other supernatural sources of information. Due to his lack of finer control, Harry often must rely on magical items to help focus and channel his magical energy, such as his staff, blasting rod, shield bracelet, and force rings. Harry has also been known to carry around many firearms such as a .38 revolver, a .357 and most recently a .44 revolver and a sawed-off shotgun for those times when 'magic just doesn't cut it'.
Harry's traditional arsenal includes a duster (first a canvas model, later replaced with a leather duster received as a gift) enchanted with protective magics, (Destroyed during the events of Changes), a rune staff, a 'blasting rod' (a wooden stick used to give him finer control over his evocation magic), a shield bracelet (which Dresden has upgraded significantly throughout the series), a silver ring (used to channel blasts of kinetic energy) which has grown from merely one to several on both hands over the course of the series, and his mother's silver pentacle amulet.

Images with a green border may be set as the character's main profile image.
For images 200x200 or 300x300 pixels square.