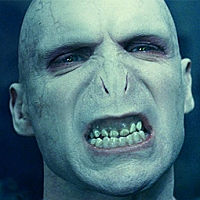 Voldemort
CBUB Wins: 18
CBUB Losses: 37
Win Percentage: 32.73%
Added by: Maestro
Read more about Voldemort at: Wikipedia
Official Site: Joanne Rowling
Lord Voldemort ( ) is the main antagonist in the Harry Potter series written by British author J. K. Rowling. Voldemort first appeared in Harry Potter and the Philosopher's Stone, which was released in 1997. Voldemort appeared either in person or in flashbacks in each book and film adaptation in the series, except the third, Harry Potter and the Prisoner of Azkaban, where he is only mentioned. Voldemort has been voted number one in polls for literary and film villains.
In the series, Voldemort is the archenemy of Harry Potter, having been directly responsible for the murder of his parents, James and Lily. He also, according to a prophecy, has the power to defeat Harry, albeit the first time he failed. He aims to conquer not just the Wizarding world, but the Muggle (non-magical) world as well. He is so feared that almost no one dares to say his name, instead referring to him as "You-Know-Who" or "He-Who-Must-Not-Be-Named." Even his followers only refer to him as the "Dark Lord". He was born Tom Marvolo Riddle, the last descendant of wizard Salazar Slytherin, one of the four founders of Hogwarts School of Witchcraft and Wizardry.
According to an interview with Rowling, "Voldemort" is pronounced with a silent 't' at the end, as is common in French. This was the pronunciation used by Jim Dale in the first four U.S. audiobook; however, after the release of the film version of Harry Potter and the Philosopher's Stone, in which the characters who dared refer to him by name pronounced it with the "t", Dale altered his pronunciation to that in the films. The pronunciation has since been used in the other films as well.
According to a 1999 interview with Rowling, Voldemort was invented as a nemesis for Harry Potter, the main protagonist of the series, and she intentionally did not flesh out Voldemort's backstory at first. "The basic idea [was that Harry] didn't know he was a wizard [...] And so then I kind of worked backwards from that position to find out how that could be, that he wouldn't know what he was. [...] When he was one year old, the most evil wizard for hundreds and hundreds of years attempted to kill him. He killed Harry's parents, and then he tried to kill Harry — he tried to curse him. [...] Harry has to find out, before we find out. And - so - but for some mysterious reason the curse didn't work on Harry. So he's left with this lightning bolt shaped scar on his forehead and the curse rebounded upon the evil wizard, who has been in hiding ever since."







Images with a green border may be set as the character's main profile image.
For images 200x200 or 300x300 pixels square.