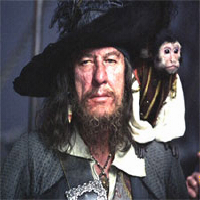 Hector Barbossa
CBUB Wins: 7
CBUB Losses: 12
Win Percentage: 36.84%
Added by: Cylon Commander
Read more about Hector Barbossa at: Wikipedia
Official Site: Walt Disney Pictures
Hector Barbossa is a fictional character and pirate in the popular Disney film series Pirates of the Caribbean. Barbossa was first introduced in the series as the main antagonist of the first film, the Curse of the Black Pearl and pirate captain of the Black Pearl after committing mutiny against the ship's former captain, Jack Sparrow, in the trilogy's first installment, Pirates of the Caribbean: The Curse of the Black Pearl. Having met his demise in the climax of the film, his character is revealed to have been resurrected at the end of Dead Man's Chest, becoming a supporting protagonist in the At World's End. In the third film, it is revealed that Barbossa is also one of the nine pirate lords as pirate lord of the Caspian Sea territory. He is also appearing in On Stranger Tides, where he and Captain Jack Sparrow are expected to search for The Fountain of Youth.
Barbossa is portrayed by Australia actor Geoffrey Rush in all the films.
Barbossa's first name, "Hector," was revealed in a director's commentary on the Curse of the Black Pearl DVD, but was not revealed by any of the characters until the last film of the series. (When they rescue Jack Sparrow, and Barbossa greets him, Sparrow says: "Ah, Hector! It's been too long! Hasn't it?") It was revealed that costar Johnny Depp played a decisive part in providing the name. His last name is both a pun on the surname of Portuguese origin "Barbosa" and is based on Hayreddin Barbarossa, the Ottoman privateer who is also known as Oruç Reis and Redbeard; the word is a combination of the Italian words barba (beard) and rossa (red).
In Pirates of the Caribbean: The Curse of the Black Pearl, Barbossa is captain of the pirate ship the Black Pearl, and is the main antagonist and villain of the movie. His plan is to break the Aztec curse he and his crew are under and bring an end to Jack Sparrow, one of his arch rivals. He was originally the ship's first mate under Captain Jack Sparrow (Depp). Barbossa persuaded Jack to reveal the bearings to Isla de Muerta where the Chest of Cortez, containing 882 pieces of Aztec gold, was hidden. After Sparrow divulged the location, Barbossa and the crew mutinied and marooned Sparrow on a tiny island, with only a single-shot pistol with which to commit suicide. Barbossa was convinced for the next ten years after the mutiny that, Jack was killed by starvation. But however unknown to Barbossa Jack made a deal with rum runners to take him off the island, after three days, swearing to use the pistol's single shot to kill Barbossa, and spent the next 10 years seeking revenge.

Images with a green border may be set as the character's main profile image.
For images 200x200 or 300x300 pixels square.
No match records for this character.