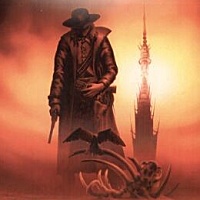 Roland the Gunslinger
CBUB Wins: 10
CBUB Losses: 6
Win Percentage: 62.50%
Added by: agustinaldo
Read more about Roland the Gunslinger at: Wikipedia
Official Site: Stephen King
Roland Deschain of Gilead is a fictional character, the protagonist and antihero of Stephen King's The Dark Tower series. He is the son of Steven and Gabrielle Deschain and is descended from a long line of "gunslinger", peacekeepers and diplomats of Roland's society. His image and personality are largely inspired by the "Man with No Name" portrayed by Clint Eastwood in several of Sergio Leone's westerns, though his quest and many of his personal, internal conflicts are drawn from Robert Browning's poem Childe Roland to the Dark Tower Came. His surname echoes Shane, the archetypal Western loner hero.
Roland becomes a gunslinger at the unheard-of age of 14 after being manipulated into taking the "trial of manhood" by Marten Broadcloak, his father's adviser and an incarnation of Randall Flagg. Marten has an affair with Roland's mother and makes sure Roland finds out about it, prompting Roland to request his trial in order to gain his guns and exact revenge on Marten. In the trial, Roland must defeat his teacher, Cort, using a weapon of his choosing. He chooses a hawk named David and defeats Cort. Despite Roland's victory, Cort and Roland's father convince Roland to bide his time before seeking retribution.
Not long after, Roland's father sends him on a mission to the town of Hambry in the Outer Barony of Mejis with his friends Alain Johns and Cuthbert Allgood, who will form the basis of his first ka-tet. While there, he comes into the possession of a pink crystal ball, one of 13 magical artifacts referred to as "Maerlyn's Rainbow." It was while looking into this artifact that Roland first discovered his destiny to quest for the Dark Tower.
Roland is a 30th-generation descendant of his world's version of King Arthur, referred to in the series as Arthur Eld. In Wizard and Glass, during a flashback to Roland's time in the Barony of Mejis, a letter from his father identifies Steven Deschain as a 29th-generation descendant of Arthur Eld from a side lineage (that is to say, from one of Arthur's many "gillies," or concubines). Even his guns were originally made of the melted-down metal from the legendary Excalibur sword. It is hinted that one must possess this sword, or another sign of the Eld (the line of Arthur Eld) in order to open the door at the foot of the Tower. According to a supplemental prose story by Robin Furth included in The Dark Tower: The Gunslinger Born (issues #7 & #2, respectively), Roland's ancestry traces back to Arthur Eld and Emmanuelle Deschain, the daughter of his seneschal, Kay Deschain, while the Crimson King's ancestry traces back to an affair between Arthur and the Crimson Queen.