| | |
| --- | --- |
| Character sourced from: Gaming | |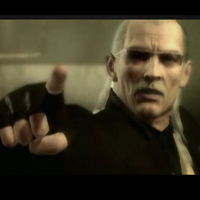 Revolver Ocelot
CBUB Wins: 1
CBUB Losses: 4
Win Percentage: 20.00%
Added by: Vicioussama
Read more about Revolver Ocelot at: Wikipedia
Official Site: Konami - Kojima Productions
, also known as and whose real name is , is a fictional character of the Metal Gear series. He was originally introduced in Metal Gear Solid (MGS) as a gunslinger-themed member of FOXHOUND from the former Soviet Union under the full codename of and is revealed to be an agent for The Patriots in Metal Gear Solid 2: Sons of Liberty (MGS2). He appears in the prequels Metal Gear Solid 3: Snake Eater (MGS3) and Metal Gear Solid: Portable Ops (MPO) as a young Spetsnaz Major, where he is identified simply as Ocelot, and eventually becomes in Metal Gear Solid 4: Guns of the Patriots (MGS4).
He is normally clothed in a duster, spurs and gunbelts, the traditional garb of gunslingers in spaghetti western, as well as a black armband on his left arm, and wields the Colt Single Action Army revolver, which he refers to as "the greatest handgun ever made" and quoting to Snake in MGS "Six bullets, more than enough to kill anything that moves" represents Ocelot's clever remarks toward his marksmanship. His appearance is based on that of veteran Western film actor Lee Van Cleef, who notably appears as Bob Hauk in John Carpenter's Escape from New York alongside Kurt Russell as Snake Plissken, the inspiration for Metal Gear protagonist Solid Snake. He is noticeably redesigned to look more similar to Van Cleef for the fourth installment.
He is the only character in the series who is personally acquainted with all four Snakes: working as a henchman for Liquid Snake and then Solidus Snake, having a friendly rivalry with Naked Snake (Big Boss) and being the nemesis to Solid Snake. He is one of the only characters to appear in every major Metal Gear Solid game (but not in the original Metal Gear games) besides Peace Walker, and is thus considered "one of the only characters to have a major role in all five Metal Gear Solid titles."
As Revolver Ocelot, the character was voiced in Metal Gear Solid and Metal Gear Solid 2 by Kōji Totani in the Japanese versions and Patric Zimmerman in the English versions. The younger Ocelot who appears in Metal Gear Solid 3 and Portable Ops is voiced by Takumi Yamazaki in Japanese and Joshua Keaton in English. After Totani's death in 2006, the older Ocelot was played by Banjō Ginga (the voice of Liquid Snake) in the Japanese version of Metal Gear Solid 4, where he is named Liquid Ocelot, although Zimmerman still played the character in the English version. Ikuya Sawaki voiced Revolver Ocelot in the DVD film Metal Gear Solid : Digital Graphic Novel (a digital version of the first game graphic novel) and Metal Gear Solid 2: Bande Dessinee (a digital version of the Metal Gear Solid: Sons of Liberty graphic novel).
No match records for this character.