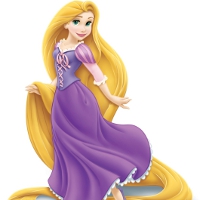 Rapunzel
CBUB Wins: 2
CBUB Losses: 1
Win Percentage: 66.67%
Added by: DSkillz
Read more about Rapunzel at: Wikipedia
Official Site: Public Domain
"Rapunzel" ( ; ) is a German fairy tale in the collection assembled by the Brothers Grimm, and first published in 1812 as part of Children's and Household Tales. The Grimm Brothers' story is an adaptation of the fairy tale Persinette by Charlotte-Rose de Caumont de La Force originally published in 1698. Its plot has been used and parodied in various media and its best known line ("Rapunzel, Rapunzel, let down your hair") is an idiom of popular culture.
In the Aarne–Thompson classification system for folktales it is type 310, "The Maiden in The Tower".
Rapunzel's story has striking similarities to the 10th century AD Persian tale of Rudāba, included in the epic poem Shahnameh by Ferdowsi. Rudāba offers to let down her hair from her tower so that her lover Zāl can climb up to her. Some elements of the fairy tale might also have originally been based upon the tale of Saint Barbara, who was said to have been locked in a tower by her father.
A lonely couple, who want a child, live next to a walled garden belonging to an enchantress. The wife, experiencing the cravings associated with the arrival of her long-awaited pregnancy, notices a rapunzel plant (or, in some versions of the story, rampion), growing in the garden and longs for it, desperate to the point of death. On each of two nights, the husband breaks into the garden to gather some for her; on a third night, as he scales the wall to return home, the enchantress, Dame Gothel, catches him and accuses him of theft. He begs for mercy, and the old woman agrees to be lenient, on condition that the then-unborn child be surrendered to her at birth. Desperate, the man agrees. When the baby girl is born, the enchantress takes the child to raise as her own, and names the baby Rapunzel. Rapunzel grows up to be the most beautiful child in the world with long golden hair. When Rapunzel reaches her twelfth year, the enchantress shuts her away in a tower in the middle of the woods, with neither stairs nor a door, and only one room and one window. When the witch visits Rapunzel, she stands beneath the tower and calls out:
No match records for this character.