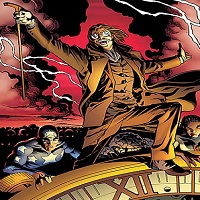 Clock King
CBUB Wins: 1
CBUB Losses: 1
Win Percentage: 50.00%
Added by: Boratz
Read more about Clock King at: Wikipedia
Official Site: DC Comics
"The Clock King" is a title, and a primary alias, used by two fictional character, both of whom are supervillain published by DC Comics. The first Clock King debuted in World's Finest Comics #111 (August 1960), and was created by France Herron and Lee Elias.
The first Clock King was originally an enemy of Green Arrow, but has become more identified by his appearances in Justice League International and Suicide Squad, and subsequent adaptations in Batman: The Animated Series. He has no super-powers or abilities other than a rigid sense of order and timing. Clock King is a master planner and sometimes uses clock-themed gadgetry. He wears a clock mask, a cape, and a blue suit with clock drawings on it. The same, or a similar a character, called "the Clock" appeared in Star Spangled Comics #70 (July 1947) and fought Robin; the Clock wore a blue business suit, an orange fedora, glasses and a red tie with a picture of a clock. The second Clock King is a member of Terror Titans.
Born William Tockman, Clock King spends his early years taking care of his invalid sister. One day he finds out from a doctor's visit that he himself only has six months to live. Despairing for his sister's future, he watches the timing of a local bank's vault in order to rob it, hoping the money would provide for his sister after he was gone. His caper would have gone successfully, had he not tripped a silent alarm and been caught by the Green Arrow.
While he is incarcerated, his sister dies alone. In further hideous irony, Tockman discovers that he really isn't terminally ill; his doctor had accidentally switched his papers with those of another patient. Infuriated, he escapes, later futilely attempting revenge on the Green Arrow.
No match records for this character.