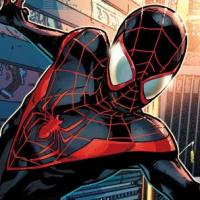 Spider-Man (Miles Morales)
CBUB Wins: 0
CBUB Losses: 2
Win Percentage: 0%
Added by: Movie-Brat
Read more about Spider-Man (Miles Morales) at: Wikipedia
Official Site: Marvel
Miles Morales is a fictional comic book superhero published by Marvel Comics. A teenager of African American and Latino descent, Miles is the second character to go by the name of Spider-Man in Marvel Comics' Ultimate Marvel line of books. First introduced following the death of Peter Parker, the original Spider-Man, Miles will be the star of the new Ultimate Comics: Spider-Man title in September 2011. Despite Miles portraying Ultimate Spider-Man in the comic book series, he will not be the lead for Marvel's Ultimate Spider-Man animated series in 2012 on Disney XD.
The concept of an African American Spider-Man was first discussed a few months before the November 2008 election of Barack Obama as President of the United States. Marvel Comics editor-in-chief Axel Alonso said, "We realized that we were standing at the brink of America elected (sic) its first African American President and we acknowledged that maybe it was time to take a good look at one of our icons". This new Spider-Man was considered a possible part of Ultimatum, a story arc that restructured much of the Ultimate Marvel universe, but those early thoughts were abandoned because the story for that character had not yet been developed.
When the Marvel Comics staff decided that the Ultimate universe's Peter Parker would be killed in the 2011 storyline "Death of Spider-Man", the plans were revived and the character Miles Morales was created. The Morales character made his debut in the fourth issue of the Ultimate Fallout limited series, which was released on August 3, 2011. Starting in September 2011, Miles will be the star in the relaunched Ultimate Comics: Spider-Man series, written by Bendis and drawn by Pichelli. Pichelli also designed Spider-Man's new costume, a mostly black outfit with red webbing and a red spider logo. Pichelli had worked on four issues of Ultimate Comics: Spider-Man before she was approached to work on the new title with Miles Morales. Pichelli, who works with a Cintiq 12wx graphic tablet, added more screentone to her illustrations to give what she called "a more 'pop' feeling to the book, because I think it would fit perfectly with the new series".
Although Morales is first black Spider-Man, he marks the second time a Hispanic character has taken the Spider-Man identity. Miguel O'Hara, who is of Mexican and Irish descent, was the title character in the series Spider-Man 2099. Peter Parker remains alive and still portrays Spider-Man in the main Marvel Universe; Morales has replaced Parker as Spider-Man only in Ultimate Marvel, a parallel universe that re-imagines the characters.
No match records for this character.