| | |
| --- | --- |
| Character sourced from: Horror | |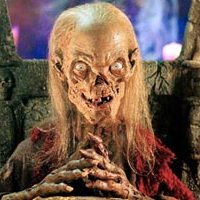 The Crypt Keeper
CBUB Wins: 0
CBUB Losses: 1
Win Percentage: 0%
Added by: hamboy
Read more about The Crypt Keeper at: Wikipedia
Official Site: Warner Video
Tales from the Crypt, The Haunt of Fear and The Vault of Horror are three bi-monthly horror comic anthology series published by EC Comics in the early 1950s. Tales from the Crypt hit newsstands with its October/November 1950 issue (#20) and ceased publication with its February/March 1955 issue (#46), producing a total of 27 issues (excluding the initial three issues, #17-19, published under the title The Crypt of Terror). The title was popular, but in the late 1940s and early 1950s comic books came under attack from parents, clergymen, schoolteachers and others who believed the books contributed to illiteracy and juvenile delinquency. In April and June 1954, highly publicized Congressional subcommittee hearings on the effects of comic books upon children left the industry shaken. With the subsequent imposition of a highly restrictive Comics Code, EC Comics publisher Bill Gaines canceled Tales from the Crypt and its two companion horror titles, along with the company's remaining crime and science fiction series in September 1954. All EC titles have been reprinted at various times since their demise, and stories from the horror series have been adapted for television and film.
Horror comics emerged as a distinct comic book genre after World War II when young adult males lost interest in caped crimebusters, and returning GIs wanted titillating sex and violence in their reading. One-shot Eerie Comics (1947) is generally considered the first true horror comic with its cover depicting a dagger-wielding, red eyed ghoul threatening a rope-bound, scantily clad, voluptuous young woman beneath a full moon. In 1948, Adventures Into the Unknown became the first regularly published horror title, enjoying a nearly two decade life-span.
In 1950, publisher Gaines and his editor Al Feldstein discovered they shared similar tastes in horror and began experimenting with horror tales in their crime titles. Tales from the Crypt traces its origin to a Feldstein story, "Return from the Grave!", in EC's Crime Patrol (#15, December 1949/January 1950) with the Crypt-Keeper making his debut as host. Issue #16 featured more horror tales than crime stories, and, with issue #17, the title changed from Crime Patrol to The Crypt of Terror. Due to an attempt to save money on second-class postage permits, the numbering did not change with the title and continued as The Crypt of Terror for the next two issues. The title saw its final form, Tales from the Crypt, with issue #20, October/November, 1950.
Early front covers were created by Feldstein, Johnny Craig and Wally Wood, with the remaining covers (1952–55) by Jack Davis. The contributing interior artists were Craig, Feldstein, Wood, Davis, George Evans, Jack Kamen, Graham Ingels, Harvey Kurtzman, Al Williamson, Joe Orlando, Reed Crandall, Bernard Krigstein, Will Elder, Fred Peters and Howard Larsen. Jack Davis took over the art for the Crypt-Keeper stories with (#24, June/July, 1951), and continued as the title's lead artist for the rest of the run. Feldstein devised the Crypt-Keeper's origin story "Lower Berth!" (#33) which was illustrated by Davis. Issue #38 was one of two covers from EC's horror comics censored prior to publication. While The Vault of Horror cover for issue #32 was restored in Russ Cochran's EC Library reprints, the Tales from the Crypt cover remained censored. "Kamen's Kalamity" (#31) starred many members of the EC staff, including Gaines, Feldstein and the story's artist, Kamen. Ingels, Davis and Craig also made cameo appearances in the story in single panels which they drew themselves.






Images with a green border may be set as the character's main profile image.
For images 200x200 or 300x300 pixels square.
No match records for this character.