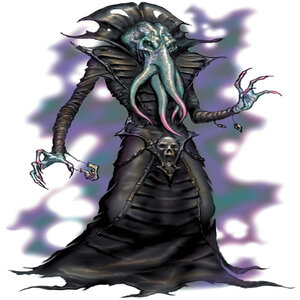 Mindflayer
CBUB Wins: 0
CBUB Losses: 0
Win Percentage: 0%
Added by: Mercenaryblade
Read more about Mindflayer at: Wikipedia
Official Site: Wizards of the Coast
In the Dungeons & Dragons fantasy role-playing game, illithids (commonly known as mind flayers) are monstrous humanoid aberrations with psionic powers. In a typical Dungeons & Dragons campaign setting, they live in the moist caverns and cities of the enormous Underdark. Illithids believe themselves to be the dominant species of the multiverse and use other intelligent creatures as thrall, slaves, and chattel. Illithids are well known for making thralls out of other intelligent creatures, as well as feasting on their brains.
The illithid is considered "Product Identity" by Wizards of the Coast and as such is not released under its Open Game License.
Mind flayers were created by Gary Gygax, who has said that one of his inspirations for them was the cover painting of the Titus Crow book The Burrowers Beneath by Brian Lumley. Tim Kirk's cover art on the book, then in its first printing, depicted only the tentacles of the titular burrowers, the Chthonians.
Mind flayers first appeared in the official newsletter of TSR Games, The Strategic Review #1, Spring 1975. Here, the mind flayer is described as "a super-intelligent, man-shaped creature with four tentacles by its mouth which it uses to strike its prey." When it hits prey with a tentacle, the tentacle penetrates to the brain and draws it forth, allowing the monster to devour it. A mind flayer's major weapon is given as the Mind Blast, a 5-foot radius wave of "PSI force" which affects each opponent differently based on how intelligent it is; possible effects include permanent insanity, rage, confusion, coma, and death. They were also included in the Eldritch Wizardry supplement, for the original (white box) Dungeons & Dragons game (1976), wherein they are described as super-intelligent, man-shaped creatures of great (and lawful) evil, with tentacles that penetrate to the brain and draw it forth for food.
No match records for this character.
No match records for this character.