| | |
| --- | --- |
| Character sourced from: Anime | |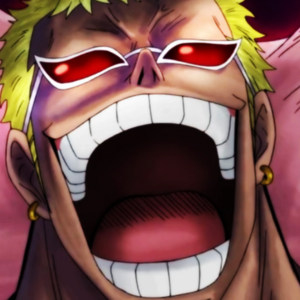 Donquixote Doflamingo
CBUB Wins: 1
CBUB Losses: 0
Win Percentage: 100.00%
Added by: SSJRuss
Read more about Donquixote Doflamingo at: Wikipedia
Official Site: Viz Media
The One Piece manga and anime series features an extensive cast of characters created by Eiichiro Oda. The series takes place in a fictional universe where vast numbers of pirates, soldiers, revolutionaries, and other adventurers fight each other, using various superhuman and supernatural abilities. The majority of the characters are human, but the cast also includes giant, mermen and mermaid, fish-men , sky people, and minks, among others. Many of the characters possess supernatural abilities gained by eating so-called "Devil Fruits". The series' storyline follows the adventures of a group of pirates as they search for the "One Piece" treasure.
Several characters have been stated to be based on actual people such as: (Eustace the Monk and William Kidd), (Sir Francis Drake), (Basil Ringrose and John Hawkins), (Al Capone and William Le Sauvage), (Anne Bonny), (Aruj), and (Chui A-poo). The cross dresser Emporio Ivankov is based on Dr. Frank N. Furter and Norio Imamura. Norio had asked Oda to draw more okama (homosexual) characters and became Ivankov's first voice actor.
Oda had created before he created Captain Morgan, Helmeppo's father. Oda originally named Morgan after "Chop", with the character's full title being "Naval Captain Chop" or "Sailor Chop". "Sailor" in Japanese is , and "Suihei Chop" is a fighting technique used by Giant Baba, a Japanese wrestler. He created several versions of Morgan before settling on the final design. After an editor told him that Morgan, in Oda's words, "looked lame", he changed the design to its final style.
The protagonists of the One Piece series are all the members of the , a crew of ten pirates captained by Monkey D. Luffy. The crew's number increases throughout the series, as Luffy recruits new members. Once Usopp joins the Straw Hat Pirates, they gain their own ship, the Going Merry, which is later destroyed and replaced by a larger and more powerful vessel, the Thousand Sunny created by their shipwright Franky. Two years later, the Straw Hats gain a new fleet, called the Straw Hat Grand Fleet, consisting of 5,640 pirates from seven different crews; Luffy objects to the idea of being a fleet commander, and organizes his new army in a way that they may act independently, but when one crew is in trouble, the others must do what they can to help them.
No match records for this character.