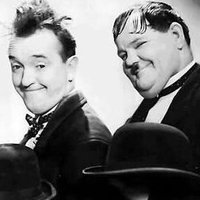 Laurel & Hardy
CBUB Wins: 0
CBUB Losses: 1
Win Percentage: 0%
Added by: patrickthekid
Read more about Laurel & Hardy at: Wikipedia
Official Site: Public Domain
Laurel and Hardy were one of the most popular and critically acclaimed comedy double act of the early Classical Hollywood era of American cinema. Composed of thin Englishman Stan Laurel (1890–1965) and heavyset American Oliver Hardy (1892–1957), they became well known during the late 1920s to the mid-1940s for their slapstick comedy, with Laurel playing the clumsy and childlike friend of the pompous Hardy. They made over 100 films together, initially two-reeler (short films) before expanding into feature length films in the 1930s. Their films include Sons of the Desert (1933), the Academy Award-winning short film The Music Box (1932), Babes in Toyland (1934), and Way Out West (1937). Hardy's catchphrase, "Well, here's another nice mess you've gotten me into!", is still widely recognized.
Prior to the double act, both were established actors, with Laurel appearing in over 50 films and Hardy in over 250 films. Although the two comedians first worked together on the film The Lucky Dog (1921), this was a chance pairing and it was not until 1926, when both separately signed contracts with the Hal Roach film studio, that they began appearing in movie shorts together. Laurel and Hardy officially became a team the following year in the silent short film Putting Pants on Philip (1927). The pair remained with the Roach studio until 1940, then appeared in eight "B" comedies for 20th Century Fox and Metro-Goldwyn-Mayer from 1941 to 1945. After finishing their movie commitments at the end of 1944, they concentrated on stage shows, embarking on a music hall tour of England, Ireland, and Scotland. In 1950, they made their last film, a French/Italian co-production called Atoll K, before retiring from the screen. In total, they appeared together in 107 films. They starred in 40 short sound film, 32 short silent films and 23 full-length feature films, and made 12 guest or cameo appearances, including the recently discovered Galaxy of Stars promotional film (1936).
A common comedy routine was a tit-for-tat fight. Their silent film Big Business (1929), which includes one of these routines, was added to the Library of Congress as a national treasure in 1992. Notable Laurel traits include crying like a baby while being berated and scratching his hair in a gesture of befuddlement. Signature Hardy mannerisms include "twiddling" his necktie in an effort to be ingratiating, and looking pointedly at the camera to register frustration, resignation, or mounting apprehension. On December 1, 1954, the team made their only American television appearance, surprised by Ralph Edwards on his live NBC-TV program, This Is Your Life.
The works of Laurel and Hardy have been released again in numerous theatrical reissues, television revivals, 16-mm and 8-mm home movies, feature-film compilations, and home videos since the 1930s. They were voted the seventh greatest comedy act in a 2005 UK poll by fellow comedians. The duo's signature tune, known variously as "The Cuckoo Song", "Ku-Ku", or "The Dance of the Cuckoos", played on the opening credits of their films. The official Laurel and Hardy appreciation society is known as The Sons of the Desert, after a fraternal society in their film of the same name.
No match records for this character.