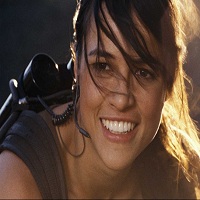 Letty Ortiz
CBUB Wins: 0
CBUB Losses: 0
Win Percentage: 0%
Added by: Boratz
Read more about Letty Ortiz at: Wikipedia
Official Site: Universal Studios
This is a list of characters from the The Fast and the Furious film series, consisting of The Fast and the Furious (2001), 2 Fast 2 Furious (2003), The Fast and the Furious: Tokyo Drift (2006), Fast & Furious (2009), Fast Five (2011) and Fast & Furious 6 (2013).
List indicator(s) * A dark grey cell indicates the character was not in the film.
Brian O'Conner is the lead main protagonist of the series. He appears in all of the films in the series except for Tokyo Drift. During the events of the first film, Brian O'Conner is working as an undercover detective with the LAPD on a joint mission with the FBI, who assigns him the task of solving a series of semi-trailer truck hijackings around L.A. While investigating the street race scene, he meets Dominic Toretto and infiltrates his crew while getting involved in a relationship with Dominic's sister, Mia Toretto. He allows Dom to escape arrest at the end of the first film and leaves Los Angeles after to avoid his own arrest. In the second film, he is shown living in Miami as a street racer, and after winning a race, Brian is caught by U.S. Customs agents and offered a deal to take part in a joint Customs/FBI operation in exchange for his criminal record being wiped clean. He teams up with childhood friend Roman Pearce, and the two go undercover as street racers, eventually apprehending the ruthless drug lord, Carter Verone.
In the fourth film, after having his crimes pardoned, Brian becomes an FBI agent and is given the task of bringing down Arturo Braga, a known drug trafficker. Brian, as well as Dominic, both infiltrate Braga's crew. While Braga is eventually apprehended, Dominic is arrested and sentenced to prison as well, resulting in Brian, Mia, and members of Dominic's crew intercepting the prison bus to free Dominic from custody. In Fast Five, Brian and Dominic get caught in a crossfire with corrupt businessman and ruthless drug lord Hernan Reyes in Rio de Janeiro and plot to steal all of Reyes' money to buy their freedom. It is revealed in Fast Five that Brian's father wasn't there for him and Brian doesn't know anything about him, unlike the close bond that Dominic's father had with both his children. Brian had been in juvenile detention with Roman before he became a cop. Brian has also rekindled his relationship with Mia, and she becomes pregnant with his child. In the sixth film, Brian, Dominic and Mia live peacefully in Spain, where Mia gives birth to their son. Brian joins Dominic's team in complying with the request of Agent Hobbs to take down rival gang leader Owen Shaw. When the team realizes that Braga worked for Shaw, Brian volunteers to enter the United States to interrogate him about Shaw. After successfully questioning Braga and returning to London, Brian starts to feel guilty for letting Letty go undercover, which led to her amnesia and subsequent work for Shaw. The group captures Shaw and convinces Letty to side with them; Brian apologizes to Letty, who says that she might not remember him, but if she did work for him, she would have done it if she wants to do it. Shaw reveals that he had captured Mia, leading to a high-speed chase after Shaw's airplane, where Mia is rescued and Shaw is killed. Hobbs then grants the group's amnesty, and the entire crew move back to America, where Mia, Dominic and Brian have decided to reside in their old home.
No match records for this character.