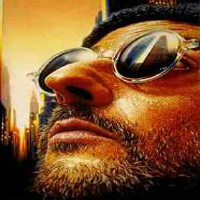 Leon The Professional
CBUB Wins: 2
CBUB Losses: 2
Win Percentage: 50.00%
Added by: razorback
Read more about Leon The Professional at: Wikipedia
Official Site: Luc Besson
Léon (also known as The Professional and Léon: The Professional) is a French English-language 1994 action film written and directed by French director Luc Besson. It stars Jean Reno as a mob hitman, Gary Oldman as a psychotic police drug squad detective, and a young Natalie Portman, in her feature film debut, as a young girl who is taken in by the hitman after her family is murdered by corrupt police agents.
Leone "Léon" Montana (Jean Reno) is a hitman (or "cleaner", as he refers to himself) living a solitary life in New York City's Little Italy. Most of his work comes from a mafioso named Tony (Danny Aiello), who operates from the "Supreme Macaroni Company" restaurant. Léon spends his idle time engaging in calisthenics, nurturing a houseplant that early on he describes as his "best friend", and (in one scene) watching old Gene Kelly musicals.
On a particular day on his way home, he sees Mathilda Lando (Natalie Portman), a twelve-year-old girl with a black eye and smoking a cigarette, living with her dysfunctional family in an apartment down the hallway. Mathilda's father (Michael Badalucco) attracts the ire of corrupt DEA agents, who have been paying him to store cocaine in his residence, after they discover that he has been stealing some of the drugs for himself. A cadre of DEA agents storm the building, led by a sharp-suited and drug-addicted Norman "Stan" Stansfield (Gary Oldman), who murders Mathilda's entire family, missing her only because she was out shopping when they arrived. When she returns with the groceries she was sent to buy and notices the carnage, she calmly continues down the hallway past the open door of her family's apartment, and receives sanctuary from a reluctant Léon.
Mathilda, who soon discovers that Léon is a hitman, begs him to become her caretaker, and to teach her his skills as a "cleaner": she wants to avenge the murder of her four-year-old brother, the only member of her family that she actually loved. Léon shows her how to use firearms, including a scoped-up sniper rifle. In return, she offers her services as a maid and teacher, remedying Léon's illiteracy. Léon hesitantly accepts her offer and the two begin working together. As they do so, Mathilda admits to Léon several times that she is falling in love with him, but he says nothing back.
No match records for this character.