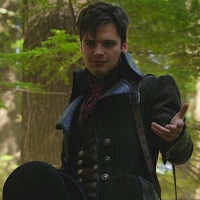 The Mad Hatter
CBUB Wins: 0
CBUB Losses: 1
Win Percentage: 0%
Added by: Boratz
Read more about The Mad Hatter at: Wikipedia
Official Site: Public Domains
The Hatter (called Hatta in Through the Looking-Glass) is a fictional character in Lewis Carroll's Alice's Adventures in Wonderland and the story's sequel Through the Looking-Glass. He is often referred to as the Mad Hatter, though this term was never used by Carroll. The phrase "mad as a hatter" pre-dates Carroll's works and the characters the Hatter and the March Hare are initially referred to as "both mad" by the Cheshire Cat, with both first appearing in Alice's Adventures in Wonderland, in the seventh chapter titled "A Mad Tea-Party".
The Hatter explains to Alice that he and the March Hare are always having tea because, when he tried to sing for the Queen of Hearts at her celebration, she sentenced him to death for "murdering the time," but he escapes decapitation. In retaliation, Time (referred to as a "Him") halts himself in respect to the Hatter, keeping him and the March Hare stuck at 6:00 forever. As such, he exclaims "Tea Time!" at random occasions. The tea party, when Alice arrives, is characterised by switching places on the table at any given time, making short, personal remarks, asking unanswerable riddles and reciting nonsensical poetry, all of which eventually drive Alice away. He appears again as a witness at the Knave of Hearts' trial, where the Queen appears to recognise him as the singer she sentenced to death, and the King also cautions him not to be nervous "or I'll have you executed on the spot."
When the character makes his appearance as "Hatta" in Through the Looking-Glass, he is in trouble with the law once again. This time, however, he is not necessarily guilty: the White Queen explains that quite often subjects are punished before they commit a crime, rather than after, and sometimes they do not even commit it at all. He is also mentioned as being one of the White King's messengers, and the March Hare appears as well as "Haigha", since the King explains that he needs two messengers: "one to come, and one to go." Sir John Tenniel's illustration also depicts him as sipping from a teacup as he did in the original novel, adding weight to Carroll's hint that the two characters are very much the same.
Although the name "Mad Hatter" was clearly done and inspired by the phrase "as mad as a hatter", there is some uncertainty as to the origins of this phrase. Mercury was used in the process of curing felt used in some hats, making it impossible for hatters to avoid inhaling the mercury fumes given off during the hat making process; hatters and mill workers thus often suffered mad hatter disease, mercury poisoning causing neurological damage including confused speech and distorted vision.
No match records for this character.