Xena & Gabrielle

CBUB Wins: 2
CBUB Losses: 3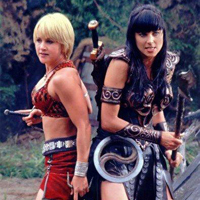 Xena is a fictional character from Robert Tapert's Xena: Warrior Princess franchise. She commonly wore a tight brown, skirted, leather outfit. She first appeared in the 1995–1999 television series Hercules: The Legendary Journeys, before going on to appear in Xena: Warrior Princess TV show and subsequent comic book of the same name. The character has also appeared in the spin-off animated movie The Battle for Mount Olympus, as well as numerous non-canon expanded universe material, such as books and video games. Xena was played by New Zealand actress Lucy Lawless, and occasionally by Hudson Leick, during the series second season.
Xena is the protagonist of the story, and the series depicts her quest to seek redemption for her past sins as a ruthless warlord by using her formidable fighting skills to help people. In Hercules, during her two first episodes, Xena was an outlaw, but in the third (and last), she joins Hercules to defeat Darphus, who had taken her army. Aware that the character of Xena had been very successful among the public, the producers of the series decided to create a spin-off series based on her adventures. The character Gabrielle, introduced in the first episode, becomes Xena's greatest ally; her initial naïveté helps to balance Xena and assists her in recognizing and pursuing the "greater good". Lauren Chapluk would stunt-double for the actress in heavily demanding scenes that required extensive acrobatics and physical skill.
Xena originally appears as an outlaw in the Hercules episode "The Warrior Princess"; about ten years into her career of pillaging and marauding, Xena meets Hercules. Initially, she sets out to kill him. In "The Gauntlet", her army turns against her because of warlord Darphus' lust for power and believing Xena has become weak after she stops her lieutenant Darphus from killing a child in a sacked village. She runs a gauntlet, and survives, becoming the only person ever to survive the gauntlet. She then fights Hercules, in the hope that she will regain her army if she can bring back his head. Xena seems to be getting the upper hand until Hercules' cousin Iolaus intervenes, giving him the moment to regain composure and defeat her. However, Hercules refuses to kill Xena, telling her, "Killing isn't the only way of proving you're a warrior." Touched and inspired by Hercules' integrity, and by the fact that he too suffered the loss of blood kin as she did and yet chooses to fight in honor of them, she decides to join him and defeat her old army. In "Unchained Heart", Hercules tells Xena that there is goodness in her heart, and the two of them share a brief romantic relationship, before Xena decides to leave and start making amends for her past.
Xena returned in Robert Tapert's television series Xena: Warrior Princess, for all of the show's 134 episodes. In season one (1995–96), Xena, haunted by her past, determines to end her warrior ways. As she stripped off her armor and weaponry and buried them in the dirt, she saw a group of village girls attacked by a band of warriors. Among the girls is a young woman named Gabrielle (played by Renée O'Connor). Xena saves the girls, leaving Gabrielle in awe of the Warrior Princess' abilities. Gabrielle begs to be Xena's traveling companion, and over time, Gabrielle becomes Xena's dearest friend. In the Season Two (1996)-(1997), Xena meets Solan, the son she gave to the Centaurs to raise, and help them in a battle against Dagnine, an old enemy of hers, who has used the power of the Ixion Stone to transform himself into the most powerful centaur ever known. During the episode Intimate Stranger, Ares, the god of war, put Xena's soul inside Callisto's body, and Callisto's soul inside Xena's body. Hudson Leick playing Xena was done to cover for the lack for Lucy Lawless after her riding accident while taping The Tonight Show with Jay Leno on October 8, 1996. The episode originally had the two switching bodies back at the end, but was adapted to incorporate the body switch at the last minute. Ares broke the exchange in the next episode, Ten Little Warlords, when Xena helps him regain his immortality.
Read more about Xena & Gabrielle at Wikipedia
Official Site: Universal Studios
Researched by: kev009