| | |
| --- | --- |
| Character sourced from: Gaming | |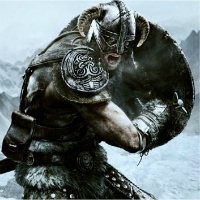 The Dragonborn
CBUB Wins: 3
CBUB Losses: 5
Win Percentage: 37.50%
Added by: AVP vs The Terminator
Read more about The Dragonborn at: Wikipedia
Official Site: Bethesda Softworks
The Elder Scrolls V: Skyrim is an action role-playing open world video game developed by Bethesda Game Studios and published by Bethesda Softworks. It is the fifth installment in The Elder Scrolls action role-playing video game series, following The Elder Scrolls IV: Oblivion. Skyrim was released on November 11, 2011 for Microsoft Windows, PlayStation 3 and Xbox 360.
Skyrim s main story revolves around the player character's efforts to defeat Alduin, a Dragon god who is prophesized to destroy the world. Set two hundred years after Oblivion, the game takes place in the fictional province of Skyrim, upon the continent of Tamriel, and the planet of Nirn. The open world gameplay of the Elder Scrolls series returns in Skyrim; the player can explore the land at will and ignore or postpone the main quest indefinitely. Skyrim has received universal acclaim from critics, selling more than 3.5 million copies within the first 48 hours of release.
The nonlinear gameplay traditional in the Elder Scrolls series is incorporated in Skyrim. The player can explore the open world of Skyrim on foot or on horse, and fast-travel to cities, towns, and dungeons after they have been discovered. Quests are given to the player by non-player character (NPCs) in the world, and through the Radiant Story system, the quests can be dynamically altered to accommodate for player actions which may influence the quest's characters and objectives. The Radiant Story then further directs the player's interaction with the world by setting unexplored dungeons as quest locations. In addition to scripted quests certain ones will be dynamically generated, providing a limitless number to the player. Some NPCs can become companions to the player to aid in combat. The player may choose to join factions, which are organized groups of NPCs such as the Dark Brotherhood, a band of assassins. Each of the factions has a headquarters, and they have their own quest paths which the player can progress through. The economy of cities and towns can be stimulated by completing jobs such as farming and mining, or spending large amounts of gold in the stores. Alternatively, the economy may be harmed by forging business ledgers and robbing the safes of stores.
When exploring the game world, the player may encounter wildlife. Many wilderness monsters are immediately hostile towards the player and thus can be slain. The inclusion of Dragons in Skyrim affords a major influence on both story and gameplay.