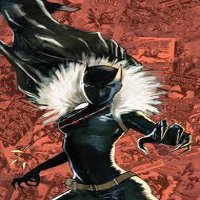 Shuri
CBUB Wins: 4
CBUB Losses: 2
Win Percentage: 66.67%
Added by: leroypowell3
Read more about Shuri at: Wikipedia
Official Site: Marvel Entertainment
The Black Panther (T'Challa) is a fictional character in the Marvel Comics universe. Created by writer-editor Stan Lee and penciller-co-plotter Jack Kirby, he first appeared in Fantastic Four #52 (July 1966). He is the first black superhero in mainstream American comics, debuting several years before such early African-American superheroes as the Falcon, Storm, Luke Cage, Blade, Tyroc, Black Lightning and John Stewart.
The Black Panther's name predates the October 1966 founding of the Black Panther Party, though not the black panther logo of the party's predecessor, the Lowndes County Freedom Organization, nor the segregated World War II Black Panthers Tank Battalion. He is the first Black modern superhero in mainstream comic book; few black heroes were created before him, but none of them had actual super powers. These included Waku, Prince of the Bantu, who starred in his own feature in the omnibus series Jungle Tales, from Marvel's 1950s predecessor, Atlas Comics and the Dell Comics Western character Lobo, the first Black man to star in his own comic book. Previous non-caricature Black supporting characters in comics include Daily Bugle managing editor Joseph "Robbie" Robertson in The Amazing Spider-Man, and U.S. Army infantry private Gabriel Jones of Sgt. Fury and his Howling Commandos.
Following his debut in Fantastic Four #52-53 (July-Aug. 1966) and subsequent guest appearance in Fantastic Four Annual #5 (1967) and with Captain America in Tales of Suspense #97-99 (Jan.-March 1968), the Black Panther sojourned from the fictional Africa nation of Wakanda to New York City, New York to join the titular American superhero team in The Avengers #52 (May 1968), appearing in that comic for the next few years. During his time with the Avengers, he made solo guest-appearances in three issues of Daredevil, and fought Doctor Doom in Astonishing Tales #6-7 (June & Aug. 1971), in that supervillain's short-lived starring feature. He later returned in a guest-appearance capacity in Fantastic Four #119 (Feb. 1972) during which he briefly tried the name Black Leopard to avoid connotations invoking the Black-militant political party the Black Panthers.
He received his first starring feature with Jungle Action #5 (July 1973), a reprint of the Panther-centric story in the superhero-team comic The Avengers #62 (March 1969). A new series began running the following issue, written by Don McGregor, with art by pencilers Rich Buckler, Gil Kane, and Billy Graham, and which gave inkers Klaus Janson and Bob McLeod some of their first professional exposure. The critically acclaimed series ran in Jungle Action #6-24 (Sept. 1973 - Nov. 1976).