| | |
| --- | --- |
| Character sourced from: Sci-Fi | |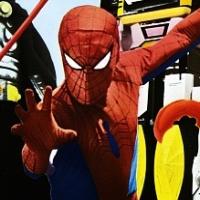 Spider-Man (Takuya Yamashiro)
CBUB Wins: 1
CBUB Losses: 0
Win Percentage: 100.00%
Added by: Movie-Brat
Read more about Spider-Man (Takuya Yamashiro) at: Wikipedia
Official Site: Marvel
is a Japan live-action television series produced by Toei Company, loosely based on Marvel's Spider-Man character. The series lasted 41 episodes, which aired on the Wednesday 19:30 JST time slot of Tokyo Channel 12 from May 17, 1978, to March 14, 1979. A theatrical episode was also shown in the Toei Manga Matsuri film festival on July 22, 1978. From March 5 to December 24, 2009, Marvel uploaded English subtitled versions of all 41 episodes and the movie on their official website.
While Toei's version of the character wore the same costume as his Marvel counterpart, the show's storyline and the origin of the character's powers deviated completely from the source material. In addition to fighting by himself, this incarnation of Spider-Man also piloted a giant robot known as Leopardon, which he would summon to thwart off enlarged versions of the show's monsters. Toei would adopt the giant robot concept in subsequent incarnations of their own Super Sentai franchise.
The show was the result of a three-years licensing agreement with Marvel that allowed both to use each others' properties in any way they wanted. Toei initially planned to use Spider-Man as a supporting character for an unmade television series starring a fictionalized version of Yamato Takeru who was sent to the present via a time warp. However, Toei decided to make Spider-Man the protagonist instead and the character of Yamato Takeru was revised into Garia, an alien who gives Spider-Man his powers. The resulting show deviated from the source material completely, outside of Spider-Man's costume and some of his superpowers and gadgets. Other productions by Toei as a result of this licensing deal included Battle Fever J (a show originally conceived about a Japanese counterpart of Captain America) and an animated television movie based on the comic book Tomb of Dracula. In contrast, Marvel would use the main robots from two of Toei's anime programs, Wakusei Robo Danguard Ace and Chōdenji Robo Combattler V, in their comic book adaptation of the Shogun Warriors toyline. A toy version of Leopardon, Spider-Man's robot from the Toei series, was also sold in the United States as part of the Godaikin line.
Although the show's story was criticized for bearing almost no resemblance to the Marvel version, the staff at Marvel Comics, including Spider-Man's co-creator Stan Lee, praised the show for its special effects and stunt work, especially the spider-like movement of the character himself. While it is said that Marvel initially opposed the addition of Leopardon, the robot was viewed as a necessary gimmick to attract younger viewers and was ultimately kept. The show's mechanical designer, Katsushi Murakami (a toy designer at the time), expressed concern about Toei's capability to market Spider-Man to Japanese audiences and was given permission by producer Yoshinori Watanabe to take whatever liberties he deemed necessary. Murakami came up with the idea of giving Spider-Man an extraterrestrial origin, as well as a spider-like spacecraft that could transform into a giant robot (due to the popularity of the giant robot shows in Japan at the time).
No match records for this character.