| | |
| --- | --- |
| Character sourced from: Toons | |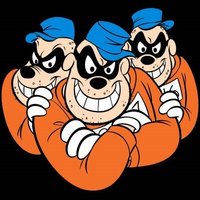 Beagle Boys
CBUB Wins: 0
CBUB Losses: 1
Win Percentage: 0%
Added by: patrickthekid
Read more about Beagle Boys at: Wikipedia
Official Site: Disney
The Beagle Boys are a group of fictional character from the Scrooge McDuck universe. Created by Carl Barks, they are a gang of criminals who constantly try to rob Scrooge McDuck. Their introduction and first appearance was in Terror of the Beagle Boys, in Walt Disney's Comics and Stories #134, although in this story they only appear in the last frame and have no lines. They appear again in the next issue in a similar fashion, in The Big Bin on Killmotor Hill. They first get a more prominent role in the later story Only a Poor Old Man.
The Beagle Boys were originally created by Carl Barks, and made their first appearance in the 10-page story The Terror of the Beagle Boys (WDC #134) that was first published in November 1951. Although the Beagle Boys are only shown very briefly on the last page of this story, it is implied that Scrooge has known about them for a long time. The first story to feature the Beagle Boys in a major role is Only a Poor Old Man from March 1952, which serves as a template for virtually all future Beagle Boys appearances, and establishes them as a serious threat to steal Scrooge's fortune.
The Beagle Boys are usually depicted as a gang of about six to ten members, who are similar in appearance and personality, and without an established leader. However, sometimes the Beagle Boys are led by their grandfather, Blackheart Beagle (prison number 186-802). The Blackheart character originates from two characters created by Carl Barks: Blackheart Beagle, a riverboat pirate from The Fantastic River Race and Grandpa Beagle, who appeared in The Money Well. Don Rosa later combined the character into one in chapters 10 and 11 of The Life and Times of Scrooge McDuck. According to Rosa, Blackheart Beagle semi-retired in 1947, following a failed attempt at robbing Scrooge's money bin.
According to Don Rosa's Life and Times of Scrooge McDuck, Scrooge first met The Beagle Boys in his Mississippi riverboat days, circa 1880. Those Beagle Boys included Blackheart Beagle and his three sons. Scrooge first met the modern Beagle Boys during Christmas 1947, which was when he first met his grandnephews Huey, Dewey and Louie and met his nephew Donald for the second time. Since then the Beagle Boys have been a constant threat to Scrooge's huge money bin.
No match records for this character.
Regular play Record:
| Result | Opponent | A Score | | B Score |
| --- | --- | --- | --- | --- |
| Loss | Atom Ant | 5 | to | 15 |