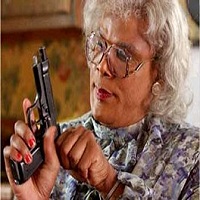 Madea
CBUB Wins: 1
CBUB Losses: 2
Win Percentage: 33.33%
Added by: Buzz Line
Read more about Madea at: Wikipedia
Official Site: Tyler Perry
Mabel Simmons, commonly known as Madea, is a comedic fictional character created and portrayed by Tyler Perry. The character is a (6'5"), overweight, older woman who uses the Mammy archetype. She is quite argumentative and is willing to threaten people with her gun, but generally does not get in trouble since she is a nightmare for the police. She has a unique accent, with catch phrases such as "Heller, how ya dern?" or "Halleluyer praise da lort!" Despite her aggressive manner, the character is usually used to teach a lesson.
Although Madea is featured as a costarring role in most of Perry's plays and films, including Diary of a Mad Black Woman, Madea's Family Reunion, Meet the Browns, Madea Goes to Jail, I Can Do Bad All By Myself, and most recently, Madea's Big Happy Family, she is not the protagonist, but the comic relief. Despite this, she is often a title character. The only exceptions (as of 2011) are the films Madea Goes To Jail and Madea's Big Happy Family, where her wider role necessitated her being the main character.
Madea was born in New Orleans,Louisiana on April 26, 1935 . According to Don't Make a Black Woman Take Off Her Earrings: Madea's Uninhibited Commentaries on Love and Life, she had several brothers, two of whom were Frederick (in the book) and Joe (who appears in the movies) and an illegitimate brother named Willie Humphrey, to whom she was briefly married.
In Madea's Family Reunion, she has a sister, named Irene, who dies. Also in the book, she gives details of her mother, "Big Mable" Murphy, who was also "unusually large". "Big Mable" is described as being very gentle and mild-mannered, a very kind and peaceful woman with a long but dangerous fuse.