| | |
| --- | --- |
| Character sourced from: Toons | |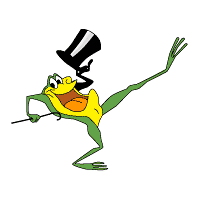 Michigan J. Frog
CBUB Wins: 0
CBUB Losses: 1
Win Percentage: 0%
Added by: patrickthekid
Read more about Michigan J. Frog at: Wikipedia
Official Site: Warner Bros.
Michigan J. Frog is an animated cartoon character who debuted in the Looney Tunes cartoon One Froggy Evening (December 31, 1955), written by Michael Maltese and directed by Chuck Jones. In this cartoon, Michigan is a male frog who wears a top hat, carries a cane, sings pop music, ragtime, Tin Pan Alley hits, and other songs from the late 19th and early 20th century while dancing and performing acrobatics in the style of early 20th century vaudeville. He appeared in a later cartoon titled Another Froggy Evening which was released on October 6, 1995. He was also a former mascot of The WB Television Network from that year until 2005, and after The Night of Favorites and Farewells, he was shown as the final image of a ghost bowing down to viewers, bringing up The CW Television Network.
His name comes from the song "The Michigan Rag" (an original song written by Jones, Maltese, and musical director Milt Franklyn), which he sings in the cartoon. In a clip from a DVD special, Jones stated that he had come up with the name "Michigan Frog" during the 1970s and was inspired to add the "J." as a middle initial while being interviewed by a writer named Jay Cocks.
The running gag in the two-part series is that Michigan's undeniable talent is discovered by some hapless (and greedy) person who has visions of making a fortune by putting this great entertainer in front of an audience and profiting from it. He invests all his time, money, and eventually his sanity in that cause. He catches on too late that the frog will perform for him and him alone; in front of anyone else, Michigan is just a normal frog and thwarts the man's dreams of wealth. The man in the original cartoon, who discovered the frog in the cornerstone of an 1892 building under demolition, tosses Michigan and the suitcase he came in into the time capsule for the Tregoweth Brown Building, a soon-to-be dedicated skyscraper. In 2056, when a construction company (consisting of men in spacesuits) razes the building with ray guns, another person (very similar to the first, but bald) discovers the suitcase, with Michigan still alive inside, and the process apparently repeats.
Michigan has made cameos in episodes of Tiny Toon Adventures, Animaniacs, The Sylvester and Tweety Mysteries, Detention (as a newt that still has much of his original features, like the top hat & cane and green outside with yellow inside), more recently, as a talent show emcee in Duck Dodgers, Will and Dewitt, (almost identical to his original appearance, but pink instead of green and has a kind of knit-style hat instead of a top hat), and as a statue in Baby Looney Tunes. The character can be seen in 1996's Space Jam in the crowd, and 2003's Looney Tunes: Back in Action during the cafeteria scenes. In Tiny Toons (voiced by Jeff Benett), Michigan was a frequent "guest" at Elmyra Duff's house. In addition, Michigan appears on the cover of Leon Redbone's 1975 album, On the Track. Michigan also made a cameo appearance in an episode of The Oblongs.
No match records for this character.