| | |
| --- | --- |
| Character sourced from: Gaming | |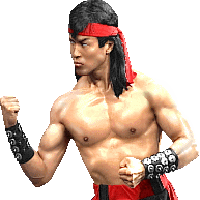 Liu Kang
CBUB Wins: 17
CBUB Losses: 19
Win Percentage: 47.22%
Added by: Deadroot
Read more about Liu Kang at: Wikipedia
Official Site: Midway
Liu Kang is a video game character in the Mortal Kombat fighting game series created for Midway Games by John Tobias and Ed Boon. First appearing in the series' first title Liu Kang is portrayed as a Shaolin monk who enters the Mortal Kombat tournament to save his world, Earthrealm, from being destroyed due to having lost nine consecutive tournaments. Since his victory in the tournament, Liu Kang acts as defender from the Earthrealms along with the Earth's warriors and his mentor, the thunder god Raiden. In later games, Liu Kang is killed by the sorcerers Shang Tsung and Quan Chi, but his soul continues protecting Earthrealm by using his body reanimated by Raiden. Liu Kang appears in most games as a playable character, and is also the lead character from Mortal Kombat: Shaolin Monks along with Kung Lao. He has also appeared in the live-action films from the series and the comic adaptations.
Liu Kang's character was created to be the hero of the series, with most of his moves being less violent and easier to perform than the ones from other characters. Video game publications have commented on his character with some of them criticizing his gameplay and shouts while others noted him to be entertaining. He has also been featured in pieces of merchandising based on the Mortal Kombat series including action-figures.
Liu Kang was originally going to be called Minamoto Yo Shin Soo. He was a Japanese mythological character, but John Tobias stated that they could not "deal with the name". One of his fighting styles is Jun Fan (which is Bruce Lee's real birth name). As stated on his MK: Armageddon bio card, Ed Boon mentioned that Liu Kang was designed to be the most easily "accessible" character, meaning that both casual and experienced gamers could play as him with little difficulty. Liu Kang was the only character in the first game whose finishing move (Fatality) did not explicitly murder his opponent, and also without the background dimming. This was because Liu Kang was depicted therein as a Shaolin monk, who in general have strict beliefs regarding killing and murder. However, starting with Mortal Kombat II, he was given gory fatalities as he was thereafter depicted as a renegade monk who decided to grow his hair back, and who had "strong Shaolin beliefs, but was no longer a part of the Shaolin monks." In response to rumors that Liu Kang would die in Mortal Kombat II and therefore not make it into Mortal Kombat 3, Boon said, "It'd be like doing part three of Star Wars and not having Luke Skywalker in there. You don't do that."
Liu Kang was played by Ho Sung Pak in the first two games, and John Tobias stated in an interview that he originally intended for the character to be a traditional bald monk, but the actor refused to shave his head. In the first game, Liu Kang was modeled after Bruce Lee, as he had short hair and went shirtless, with a threadbare outfit of only black pants and white shoes. The word "Otomix" was supposed to be written in his pants as Otomix is a supplier of martial arts and athletic wear, but the staff decided to remove to avoid advertising it. In Mortal Kombat II, his outfit was enhanced with red stripes, and now included a red headband, black shoes, and studded wristguards. In Mortal Kombat 3, his hair was considerably longer, with the only alteration to his outfit being thin black leg strips wrapped above his ankles in order to give him a "sleeker" look for the game.






Images with a green border may be set as the character's main profile image.
For images 200x200 or 300x300 pixels square.