Bikers

CBUB Wins: 0
CBUB Losses: 2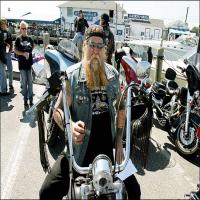 An outlaw motorcycle club (sometimes known as a motorcycle gang) is a type of motorcycle club that is part of a subculture with roots in the post-WWII USA, centered on cruiser motorcycles, particularly Harley-Davidson and choppers, and a set of ideals celebrating freedom, nonconformity to mainstream culture, and loyalty to the biker group. In the United States, "outlaw" clubs are not sanctioned by the American Motorcyclist Association (AMA) and do not adhere to the AMA's rules, but instead, generally, the club enforces a set of bylaws on its members that derive from the values of the outlaw biker culture.
Some motorcycle gangs engage in criminal activity. Besides their connection with motorcycles and the one percenter subculture, criminal motorcycle gangs are "unique among crime groups in that they maintain websites; identify themselves through patches and tattoos; have written constitutions and bylaws; trademark their club names and logos; and have publicity campaigns aimed at cleaning up their public image." ATF agent William Queen, who infiltrated the Mongols, wrote that what makes a gang like them different from the Mafia is that crime and violence are not used as expedients in pursuit of profit, but that the priorities are reversed. Mayhem and lawlessness are inherent in living "The Life," and the money they obtain by illegal means is only wanted as a way to perpetuate that lifestyle.
There are non-outlaw groups, like the Harley Owners Group, that adopt similar insignia, colors, organizational structure, and trappings like beards and leather outfits which are typical of outlaw gangs, making it difficult for outsiders to tell the difference. It has been said that these groups are attracted by the mystique of the outlaw image despite objecting to the suggestion that they are outlaws.
While organizations may vary, the typical internal organization of a motorcycle club consists of a president, vice president, treasurer, secretary, road captain, and sergeant-at-arms. Localized groups of a single, large MC are called chapters, and the first chapter established for an MC is referred to as the mother chapter. The president of the mother chapter serves as the president of the entire MC, and sets club policy on a variety of issues.
Read more about Bikers at Wikipedia
Official Site: Public Domain
Researched by: ViceCityMobster86