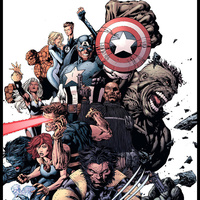 The Ultimate Marvel Universe
CBUB Wins: 0
CBUB Losses: 1
Win Percentage: 0%
Added by: AVP vs The Terminator
Read more about The Ultimate Marvel Universe at: Wikipedia
Official Site: Marvel Comics
Ultimate Marvel is an imprint of comic book published by Marvel Comics, featuring reimagined and updated versions of the company's superhero characters, including Spider-Man, the X-Men, the Avengers, and the Fantastic Four. The imprint was launched in 2000 with the publication of the series Ultimate Spider-Man and Ultimate X-Men. The characters have new origins, freeing them from the sometimes convoluted back-histories of the original versions which were thought to turn off new readers unfamiliar with their extensive histories. The universe has been designated as "Earth-1610" within the Marvel Multiverse, which comprises an infinite number of alternate universes.
The entire Ultimate Marvel imprint has been relaunched after the conclusion of the Ultimatum event, under the "Ultimate Comics" brand.
The imprint was launched in 2000 with the publication of Ultimate Spider-Man, followed by Ultimate X-Men and The Ultimates in 2001, and finally Ultimate Fantastic Four. Prior to the launch, the imprint was under the working title of "Ground Zero". While some of the series (including Ultimate Spider-Man) were seemingly aimed at younger readers than most Marvel titles, others (such as Ultimates) seem written for an older audience. Nevertheless, the Ultimate imprint as a whole was intended to attract and serve new readers beyond the existing Marvel fan base, although long-time fans have generally embraced the line.
The stories and characters of Ultimate Marvel have been adapted to reflect the differences between the present and past continuities, most of which were created in the 1960s and 1970s. For example, Ultimate Spider-Man gains his superpowers from a genetically-engineered spider rather than a radioactive spider, and his alter ego, Peter Parker, originally a photographer for the Daily Bugle newspaper, now has a part-time job as the paper's webmaster. Another noteworthy aspect of the Ultimate Marvel universe is that many of the characters are more youthful than their regular-continuity counterparts. In some cases, this is simply a result of taking the characters back to their origins — Spider-Man, the Human Torch, and the X-Men were teenagers at the beginning of their respective series — but other cases involve more striking changes. In particular, the backstory of the Ultimate Fantastic Four has been compressed so that they gain their powers when Reed Richards is only twenty-one years old.




Images with a green border may be set as the character's main profile image.
For images 200x200 or 300x300 pixels square.
No match records for this character.