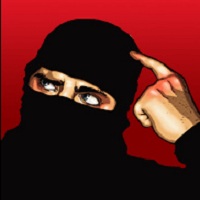 The Ninja
CBUB Wins: 2
CBUB Losses: 1
Win Percentage: 66.67%
Added by: Tsemasi
Read more about The Ninja at: Wikipedia
Official Site: The Ninja
Ask A Ninja is a series of comedy videos about the image of ninja in popular culture available in podcast and vodcast form, as well as in mov and wmv file formats. Only two episodes of the series were released in 2009, seven months apart.
In December 2007, television industry trade magazine TelevisionWeek (www.tvweek.com) reported
that Ask a Ninja creators Kent Nichols and Doug Sarine made about $100,000 a month in ad revenue and income from merchandising and licensing from the show. In January 2007 Forbes listed The Ninja as one of the top "Fictional Celebrities" on the web.
The series, created by Los Angeles improvisational comedians Kent Nichols and Douglas Sarine, features a ninja who answers e-mail from "viewers" (a similar format to Ask Zorbak and Strong Bad Email, which was an influence on Ask A Ninja's creators according to Kent Nichols). According to an interview, Ask A Ninja was originally supposed to be an animated show about two Ninjas living in Orange County.
No match records for this character.