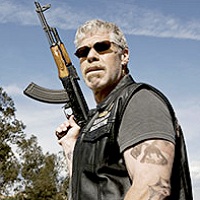 Clay Morrow
CBUB Wins: 1
CBUB Losses: 0
Win Percentage: 100.00%
Added by: Tsemasi
Read more about Clay Morrow at: Wikipedia
Official Site: FX
Clarence "Clay" Morrow is a fictional character in the FX television series Sons of Anarchy. He is played by Ron Perlman. He is the President of the Sons of Anarchy Motorcycle Club, but is also something of a vigilante as he does everything in his power to ensure that drug dealer and rapists stay out of his town. He is 6' 2" and has a number of tattoos, most notably a Grim Reaper on his upper right arm and a US Army Airborne badge on his upper left, showing Paratrooper wings and the phrase "Death From Above".
The role was played by Scott Glenn in the first version of the pilot.
Morrow was born in 1949 and is a native of Charming, California. In 1967, he was one of nine members who formed the Sons of Anarchy Motorcycle Club, of which he was the youngest and one of only three who were not war veteran. He did later go on to serve in the military, however, joining the Airborne Forces in 1969 and serving in Vietnam until 1972 (commemorated by a tattoo on his left arm and the parachutist badge on his vest). When he returned from service, he remained a member of the club and opened the Teller-Morrow auto shop with John Teller, the club President and his best friend. Whilst serving as the Vice President during the early 1990s, he was responsible for a number of murders during the SAMCRO-Mayan War, including that of Lowell Harland, Sr., a mechanic at the auto shop who became an ATF informant.
In 1993, he became the President of the club's Mother Chapter, based in Charming (which also means that he is National President), after the death of John Teller. He later went on to marry Gemma Teller Morrow, who was John Teller's wife, in the mid-1990s and he adopted their son Jax Teller, who he went on to make Vice-President. It is implied that under Morrow, SAMCRO have become more of a criminal enterprise than before, much to the disillusion of Jax.
No match records for this character.