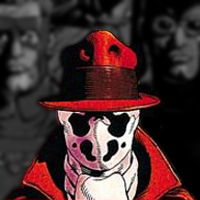 Rorschach
CBUB Wins: 18
CBUB Losses: 12
Win Percentage: 60.00%
Added by: Ren
Read more about Rorschach at: Wikipedia
Official Site: DC Comics
Rorschach ( [http://media.merriam-webster.com/soundc11/gg/ggrors01.wav ]) is a fictional comic book superhero featured in the acclaimed 1986 DC Comics miniseries Watchmen. Rorschach was created by Watchmen writer Alan Moore with artist Dave Gibbons, but as with most of the central characters in the series, he was an analog for a Charlton Comics character, in this case Steve Ditko's The Question, and Ditko's small press character Mr A.
His mask displays a constantly morphing inkblot that is based on the ambiguous designs used in Rorschach inkblot test. Rorschach considers the mask his true "face." He continues his one-man battle against crime long after superheroes have become both detested and illegal. Moore depicted Rorschach as being extremely right-wing, and morally uncompromising, a viewpoint that has alienated him from the rest of society. Politically, he is both anti-communist and anti-liberal (according to the definition of Liberalism commonly accepted in contemporary U.S. political parlance, which greatly differs from classical Liberal Democracy). He is described as being mentally ill by several characters.
Moore has said that the character's real name, Walter Kovacs, was inspired by Ditko's tendency to give his characters names beginning with the letter K. In an interview for the BBC's Comics Britannia, Moore stated that Rorschach was created as a way of exploring how an archetypical Batman-type character—a driven, vengeance-fueled vigilante—would be like in the real world. He concluded that the short answer was "a nutcase." Rorschach was named the sixteenth greatest comic book character by Empire magazine and the sixth greatest by Wizard magazine.
Rorschach, born Walter Joseph Kovacs, is the son of Sylvia Kovacs, a prostitute, and "Charlie" (surname unknown). His mother was abusive and did not care for him. In July of 1951, at the age of 10, Kovacs became involved in a fight with two older bullies, in which he partly blinded one with a cigarette and took a large bite out of the other's cheek. He was removed from his mother's care and put in "The Lillian Charleton Home for Problem Children" in New Jersey until 1956, where he showed talent at English and Religious education, as well as gymnastics and amateur boxing.










Images with a green border may be set as the character's main profile image.
For images 200x200 or 300x300 pixels square.