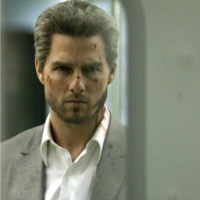 Vincent
CBUB Wins: 0
CBUB Losses: 1
Win Percentage: 0%
Added by: Darwin Tremor
Read more about Vincent at: Wikipedia
Official Site: Paramount Pictures
Collateral is a 2004 crime thriller film starring Tom Cruise and Jamie Foxx. It was directed by Michael Mann and written by Stuart Beattie. It was Mann's first feature film to be shot mostly with high-definition cameras. Mann had previously used the format for portions of Ali and for his CBS drama Robbery Homicide Division.
The film is set in Los Angeles, California. In an HBO movie review, director Michael Mann stated that the film takes place on the night of January 24 to 25, 2004 from 6:30 PM to 5:40 AM. Foxx was widely praised for his performance and was nominated for the Academy Award for Best Supporting Actor.
Cab driver Max Durocher (Jamie Foxx) drives U.S. Justice Department prosecutor Annie Farrell (Jada Pinkett Smith) to work. During the drive, she tells him about an upcoming case she is prosecuting and he tells her about his dream of owning his own limousine service. Annie leaves Max her business card. Moments later, Max picks up a man named Vincent (Tom Cruise), who was seen earlier exchanging a briefcase with a stranger (Jason Statham) at Los Angeles International Airport.
As Vincent directs him to a tenement building, he tells Max of his dislike of L.A., telling a story of a man who gets on the MTA in L.A. and dies; after six hours someone realizes there is a corpse riding around LA. As Max arrives at the destination, Vincent, impressed with Max's efficiency, asks him to be his personal chauffeur for his remaining stops. Max at first declines, but Vincent offers him $600 if he takes him to several locations. Max reluctantly agrees. Minutes later, a body drops onto the cab. Max realizes Vincent killed the man, but unable to escape, he is forced to help Vincent and put the body in the trunk.
No match records for this character.
Regular play Record:
| Result | Opponent | A Score | | B Score |
| --- | --- | --- | --- | --- |
| Loss | Kingpin | 7 | to | 8 |