| | |
| --- | --- |
| Character sourced from: Anime | |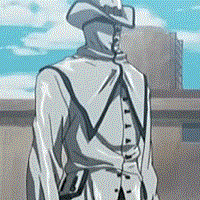 Captain Bravo
CBUB Wins: 1
CBUB Losses: 0
Win Percentage: 100.00%
Added by: Confession FPT
Read more about Captain Bravo at: Wikipedia
Official Site: Shonen Jump
This is a list of characters in the manga and anime series Buso Renkin. The manga was written and drawn by Nobuhiro Watsuki, the creator of Rurouni Kenshin, with some story collaboration by Kaoru Kurosaki. It was serialized by Shueisha in the shōnen (aimed at young boys) manga magazine Weekly Shōnen Jump between 2003 issue 30 and 2005 issue 21/22. The story was completed in two extra chapters called "Buso Renkin Period" and "Buso Renkin After," which were published in the two issues of Jump the Revolution! in 2005 and 2006. The serial chapters were collected in ten bound volumes. The manga is licensed in North America by Viz Media, in France by Glénat, and in Germany by Tokyopop. The series was adapted as an anime television series by Xebec, which was initially broadcast in 26 episodes by TV Tokyo between 5 October 2006 and 29 March 2007. The series was also adapted as two drama CD and a novel.
The series is about teenaged boy Kazuki Muto who is accidentally killed during a battle between an alchemy warrior and a homunculus at his high school, and after being revived through alchemy, becomes one of the alchemy warriors. These warriors use numbered alchemial devices called Kakugane that, when activated, take on a unique form based on the Kakugane's user. According to Watsuki's author notes in the manga, he based the designs of several characters on those of characters from Rurouni Kenshin.
is a 16-year-old boy who attends Ginsei Private Academy with his younger sister Mahiro. After becoming involved in Tokiko Tsumura's fight, subsequently being killed by a homunculus and then revived by a Kakugane, he is told to return to his ordinary life, but instead insists upon assisting Tokiko in her battles. Kazuki is very enthusiastic, friendly and caring for his friends and sister Mahiro; he tends to put himself in difficult situations in order to assist or protect others. Although he has an unusual way of showing it, he does have strong feelings for Tokiko Tsumura. Kazuki has been called a hypocrite on a number of occasions (almost every time by Papillion): such instances being Kazuki's trying to stop Koshaku Chono from becoming a homunculus and having to destroy him, becoming (albeit against his will) a Victor and thus giving up his humanity and (in "Buso Renkin After") trying to apologize to Tokiko for wanting to touch her scar.
The Kakugane Tokiko used to revive Kazuki turned out to be Black Kakugane III disguised as a normal Kakugane, which transformed him into a Victor. He is then pursued by the 'Muto-assassination team', as well as his former commander, Captain Bravo. During his assassination, he was dubbed 'Victor III' by the Alchemy Warriors. Afterwards he was given his freedom as he had promised to destroy himself if he could not find a cure for the Victor transformation before six weeks (the amount of time it takes the Black Kakugane to permanently change him into his Victor form). In the end, he sacrifices himself when he sends himself and Victor to the moon with Sunlight Heart +. In Buso Renkin Period, however, he returns to Earth successfully with help from Victor's Buso Renkin, Fatal Attraction. As soon as he returned to Earth, he and Papillon settled their scores, with Kazuki claiming victory. After this, he returns to a normal life with Tokiko, Mahiro and his friends (despite his image being used as part of a fast-food promotion under the name "Hypocrite Boy").
No match records for this character.
Regular play Record:
| Result | Opponent | A Score | | B Score |
| --- | --- | --- | --- | --- |
| Win | Renamon | 16 | to | 9 |