| | |
| --- | --- |
| Character sourced from: Sci-Fi | |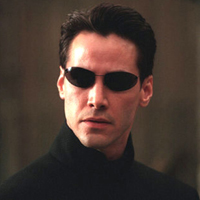 Neo
CBUB Wins: 22
CBUB Losses: 16
Win Percentage: 57.89%
Added by: Doow
Read more about Neo at: Wikipedia
Official Site: WarnerBrothers
Thomas A. Anderson (alias Neo) is a fictional character and the main protagonist in The Matrix, The Matrix Reloaded, and The Matrix Revolutions, as well as having a cameo in The Animatrix short film, Kid's Story. He was portrayed by Keanu Reeves in The Matrix Trilogy and The Animatrix. Andrew Bowen provided Neo's voice in The Matrix: Path of Neo. In 2008, Neo was selected by Empire as the 16th greatest movie character of all time. Neo is also an anagram of One. This makes sense, as he is "The One".
Thomas A. Anderson was born on March 11, 1962 in "Lower Downtown, Capital City, USA" according to his criminal record seen in the film. His mother was Michelle McGahey (the name of the first film's art director ) and his father was John Anderson. He attended Central West Junior High and Owen Patterson High (named after the film's production designer). In high school, he excelled at science, math and computer courses, and displayed an aptitude for English and History. Although he had disciplinary troubles when he was thirteen to fourteen years old, Anderson went on to become a respected member of the school community through his involvement in football and hockey.
At the start of the series, Thomas Anderson is one of billions of humans neurally connected to the Matrix, unaware that the world he lives in is a virtual reality. In his legitimate activities, he is a quiet programmer for the "respectable software company" Metacortex ; but he is also a computer hacker who penetrates computer systems illicitly and steals information under his hacker alias " Neo ". During his time as a hacker, Anderson has learned about something known only as "the Matrix". It is described by Morpheus as a vague notion that Neo has felt his whole life that "there is something wrong with the world".
During the years prior to the events of The Matrix, Anderson has spent his time trying to find the one man who he thought could tell him what the Matrix was: a supposed terrorist known only as Morpheus. Anderson is suddenly contacted by Morpheus via a cellphone mailed to his office, but is almost immediately captured by the virtual reality's Agents, led by Agent Smith. After refusing to co-operate with the agents, Neo has an electronic bug implanted within his Matrix-simulated body so that his actions can be tracked and those seeking to make contact from the free world can be traced and destroyed. He is then contacted by Trinity , freed from the bug, and taken to meet Morpheus.


Images with a green border may be set as the character's main profile image.
For images 200x200 or 300x300 pixels square.
No match records for this character.