| | |
| --- | --- |
| Character sourced from: Gaming | |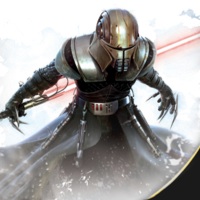 Darth Stalker
CBUB Wins: 8
CBUB Losses: 2
Win Percentage: 80.00%
Added by: Darwin Tremor
Read more about Darth Stalker at: Wikipedia
Official Site: Lucas Arts
Star Wars: The Force Unleashed, also known as The Force Unleashed, is a LucasArts video game and part of the The Force Unleashed project; other The Force Unleashed project developers and publishers include Dark Horse Comics, Lego, Hasbro, and Del Rey Books. The Force Unleashed was initially developed for the PlayStation 2, Wii, consoles and on the iOS, second-generation N-Gage, Nintendo DS, PlayStation Portable, and Java-equipped mobile phone handhelds. The sequel, Star Wars: The Force Unleashed II, was announced at the 2009 Spike Video Game Awards.
The game was released in North America on September 16, 2008, in Australia and Southeast Asia on September 17, and in Europe on September 19. LucasArts has released downloadable content for the PlayStation 3 and Xbox 360 consoles. An Ultimate Sith Edition of the game, containing new and all previously released expanded content, was released in November 2009, Star Wars: The Force Unleashed: Ultimate Sith Edition also expanded the game's presence to the Microsoft Windows and Mac OS platforms.
The project bridges the two Star Wars trilogies and introduces a new protagonist, code name "Starkiller", as Darth Vader's secret apprentice. Reviews offered mixed response, praising The Force Unleashed for its compelling story, robust physics, impressive art and soundtrack, but also citing frustrating gameplay. Despite these mixed reviews, the game was a bestseller in the United States and Australia, with over one million copies sold its debut month. The game has sold over seven million copies, and it is the fastest-selling Star Wars video game.
The Force Unleashed is a third-person action game in which the player's character's weapons are the Force and a lightsaber. Developers treated the main character's lightsaber like another Force power, and wanted to ensure "something visceral and cool" happened with each button-push. The gameplay is intended to be easy to learn; the development team included "horrible" gamers to help ensure the game's accessibility. Additionally, enemies learn from the player's character's attacks; using the same attack on different characters can sometimes lead to the player's character doing less damage. The enemies, which number over 50, have various strengths and weaknesses; developers faced the difficulty of effectively placing them throughout the game's varied environments.