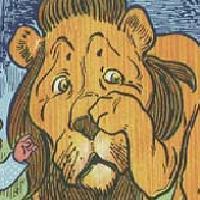 The Cowardly Lion
CBUB Wins: 0
CBUB Losses: 3
Win Percentage: 0%
Added by: Schornforce
Read more about The Cowardly Lion at: Wikipedia
Official Site: Warner Bros./Public Domain
The Cowardly Lion is a character in the fictional Land of Oz created by American author L. Frank Baum. He is a Lion, but he talks and interacts with humans.
Since lions are supposed to be "The Kings of Beasts," the Cowardly Lion believes that his fear makes him inadequate. He does not understand that courage means acting in the face of fear, which he does frequently. Only during the aftereffects of the Wizard's gift, when he is under the influence of an unknown liquid substance that the Wizard orders him to drink (perhaps gin ) is he not filled with fear. He argues that the courage from the Wizard is only temporary, although he continues to do brave deeds while openly and embarrassedly fearful.
The Cowardly Lion makes his first appearance in the book The Wonderful Wizard of Oz. He is the last of the companions Dorothy befriends on her way to the Emerald City. The Cowardly Lion joins her so that he can ask The Wizard for courage, being ashamed that, in his cultural role as the King of the Beasts, he is not indeed brave. Despite outward evidence that he is unreasonably fearful, The Cowardly Lion displays great bravery along the way. During the journey, he leaps across a chasm on the road of yellow brick multiple times, each time with a companion on his back, and the leap back to get the next one. When they come into another, wider chasm, the Cowardly Lion holds off two Kalidah while the Tin Woodman cuts a tall tree to cross it. In spite of his fears, he still goes off to hunt for his food, and he even offers to kill a deer for Dorothy to eat, but the idea makes her uncomfortable.
The Wizard gives him a dish of unknown liquid, telling him it is "courage" to drink. In the remainder of the book, the Lion becomes almost like a bully and ready to fight. He accompanies Dorothy on her journey to see Glinda, and allows his friends to stand on his back in order to escape the Dainty China Country, where he damages the only church mentioned in an Oz book until Handy Mandy in Oz (1937).






Images with a green border may be set as the character's main profile image.
For images 200x200 or 300x300 pixels square.
No match records for this character.