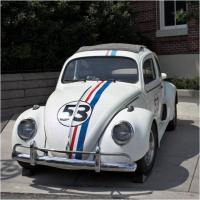 Herbie
CBUB Wins: 3
CBUB Losses: 2
Win Percentage: 60.00%
Added by: patrickthekid
Read more about Herbie at: Wikipedia
Official Site: Disney
Herbie is an anthropomorphic Volkswagen Beetle, a character that is featured in several Disney motion pictures starting with the 1968 feature film The Love Bug. He has a mind of his own and is capable of driving himself, and is a serious contender in auto racing competitions. Throughout most of the franchise, Herbie is distinguished by red, white and blue racing stripe from front to back bumper, a racing-style number "53" on the front trunk lid, doors, and engine lid, and a yellow-on-black '63 California license plate that says, "OFP 857". One exception to this is his introduction in The Love Bug, where he initially appears as a nondescript white vehicle with a gray colored fabric sunroof (a.k.a. "ragtop"), the style of sunroof offered on VW Beetles made through 1963.
Herbie's origins are firmly established in The Love Bug. Before being passed to down-on-his-luck race car driver Jim Douglas (Dean Jones), Herbie was bought from Peter Thorndyke's showroom by San Francisco socialite Mrs. Van Luit for her upstairs maid. However, Herbie was returned the following day due to "difficulties". Douglas has an earnest appreciation for what he deems "a decent piece of machinery" and eventually purchases the unassuming "little car." Tennessee, Jim's mechanic friend, names the car "Herbie" after his uncle Herb.
In Herbie Rides Again, after several successful races with Herbie, Douglas decides to enter foreign racing circuit, while his mechanic friend Tennessee is residing in Tibet to help his ailing guru. Before Tennessee departs, he leaves Herbie in the care of his great aunt, the widowed Mrs. Steinmetz (Helen Hayes).
By Herbie Goes to Monte Carlo, Douglas enters Herbie in the Trans-France Race, stretching from Paris to Monte Carlo. This time around, Douglas recruits mechanic friend Wheeley Applegate (Don Knotts) to assist, particularly when lovesick Herbie falls "hood over wheels" in love with a Lancia Scorpion named Giselle. Unfortunately, Giselle is driven by competitive female driver Diane (Julie Sommars). Herbie also finds himself in the wrong place at the wrong time when the stolen Etoile de Joie diamond is stashed in his gas tank.