Jiro Mochizuki

CBUB Wins: 1
CBUB Losses: 0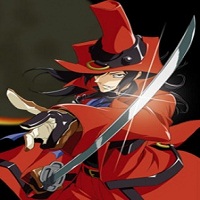 , also known as , is a light novel series written by Kōhei Azano and illustrated by Yuuya Kusaka. In 2006, Studio Live and Group TAC produced an anime based on the series. It is directed by Hiroaki Yoshikawa. It was licensed for North American release by Funimation Entertainment, with the first DVD being released in February 2008.
During a fictional war called the Hong Kong Crusade, an Old Blood vampire, Jiro Mochizuki, a.k.a. the , fought and defeated the Kowloon king and also most of the Kowloon Children. Ten years later, Jiro heads to Japan with his little brother, Kotaro, in hopes of reaching The Special Zone, a thriving secret city where vampires live. They soon realize that a plan to infiltrate The Special Zone is being hatched by the Kowloon Children survivors. As they travel to The Special Zone, Jiro encounters enemies from the past and new threats that may endanger the safety of the Special Zone. The abduction of Kotaro, by one of the Kowloon Children, thrusts him even further into the battle.
Within the story, in the year 1997, a vampire who would later be known as the Kowloon King emerged in Hong Kong and began spreading his lineage to others. The Kowloon Children, as his bloodline came to be known, differed from other bloodlines in that all humans bitten by a Kowloon Child would become Kowloon Children themselves, even without a direct infusion of that bloodline's blood. Any existing vampire also bitten by a Kowloon Child would become one of the Kowloon Children. The ensuing chaos made the existence of vampires, which until then had been living in secret, known to the entire world. The conflict culminated in the Hong Kong Crusade, a final battle in which humans and vampires worked together to exterminate the Kowloon Children. After the crusade, the Special Zone - a city for vampires to live - was established on the sea outside of Yokohama, Japan. After the war, it was announced that all vampires had been killed, and most humans were kept ignorant of the existence of the Special Zone. Jiro Mochizuki, who became known as the Silver Blade, is a hero of the Crusade who defeated the Kowloon King, although he lost his lover and was betrayed by a close friend in the process.
;
Read more about Jiro Mochizuki at Wikipedia
Official Site: FUNImation
Researched by: Shockwave
| Result | Opponent | A Score | | B Score |
| --- | --- | --- | --- | --- |
| Win | Blade | 10 | to | 8 |