| | |
| --- | --- |
| Character sourced from: Gaming | |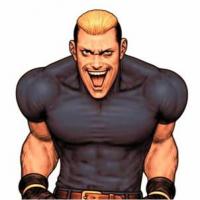 Ryuji Yamazaki
CBUB Wins: 2
CBUB Losses: 4
Win Percentage: 33.33%
Added by: patrickthekid
Read more about Ryuji Yamazaki at: Wikipedia
Official Site: SNK
is a video game character appearing in Fatal Fury series and The King of Fighters developed by SNK Playmore (formerly known as SNK). Yamazaki is first introduced as the sub-boss character of Fatal Fury 3: Road to the Final Victory, where he is a criminal known as "Dark Broker". In the game Yamazaki hired by the Jin brothers into recovering their sacred scrolls able to give immortality to its user. In following titles from the series Yamazaki does not work for anybody, normally making crimes just to entertain himself. He has also become a character from The King of Fighters, in which participates in the annual tournaments from some games being hired by the Southtown crime lord Geese Howard.
Yamazaki's introduction in The King of Fighters series was made as a result of three popularity polls developed by three video games journals in which players voted which character they wanted to see in The King of Fighters '97, the upcoming game from the series at that time. Yamazaki has also appeared in the crossover games Capcom vs. SNK: Millennium Fight 2000 and Capcom vs. SNK 2 as a playable character. Video games publications have commented on Yamazaki's character, with some praising his introduction in Fatal Fury 3 and development in titles from The King of Fighters. However, other reviewers criticized how hard defeating him is in the Fatal Fury games and how strong he is in Capcom vs. SNK: Millennium Fight 2000 in comparison to other popular characters.
Yamazaki has black hair, but above his forehead it is blonde. He has a total of two outfits, both with black clothes. Before fighting and in cutscenes, Yamazaki sports a white fur coat which covers almost all his body. In Fatal Fury 3: Road to the Final Victory, Yamazaki wears a black t-shirt with short sleeves and black pants. He also sports gloves which do not cover his finger and shoes, both of the same color. He also appears with this outfit in all the games from the Fatal Fury series, the SNK vs. Capcom series and The King of Fighters 2003. The King of Fighters '97 and all the other games from the same series except KOF 2003 show Yamazaki with a black shirt which also covers his neck. He also sports a black sleeveless jacket which covers his shirt.
Yamazaki was raised in Okinawa after and which he developed while growing up on the streets alone fighting against sailors during his teenage years, then as an enforcer for a criminal mob. In contrast with most of the other fighters in combat video games, Yamazaki does not use any particular martial art - he is a self-taught brawler, and uses a wide variety of attacks in his fighting, including unfair and dishonest moves such as kicking sand in his opponent's eyes, and his ever-present knife. He also rarely takes his right hand out of his pocket unless he is using his knife. In order to adapt him to KOF, the game planner had to provide new moves to Yamazaki. The new moves were initially noted to be failures, but designers later thought of them as successful. As a criminal, Yamazaki started a rivalry with the Hong Kong detective Hon Fu, who becomes determinted to arrest Yamazaki, while Yamazaki does not want to be arrested by him.
No match records for this character.