The Sawyer Family

CBUB Wins: 2
CBUB Losses: 7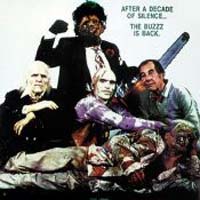 The Texas Chain Saw Massacre is an independent 1974 American horror film directed by Tobe Hooper and written collaboratively by Hooper and Kim Henkel. The film stars Marilyn Burns, Gunnar Hansen, Teri McMinn, William Vail, Edwin Neal, and Paul A. Partain. While presented as a true story involving the ambush and murder of a group of friends on a road trip in rural Texas by a family of cannibals, the film is completely fictional. The Texas Chain Saw Massacre is the first of the six films in The Texas Chainsaw Massacre film franchise, which features Leatherface, a character modeled on the Wisconsin serial killer Ed Gein and played by Hansen in this film.
Hooper produced the film on a budget of around $140,000 and cast relatively unknown actors, drawing people mainly from the areas surrounding the Texas filming locations. Principal photography for the film took place between July 15 and August 14, 1973. When the film was completed, Hooper struggled to find a distributor willing to release it due to its graphic depiction of violence; when he eventually secured a distributor, the Motion Picture Association of America (MPAA) gave the film an R-rating instead of the PG-rating Hooper had intended the film to receive.
Sally Hardesty (Marilyn Burns) and her brother, Franklin (Paul A. Partain), travel with three friends, Jerry (Allen Danziger), Kirk (William Vail) and Pam (Teri McMinn), to a cemetery containing the grave of the Hardesty's grandfather. They aim to investigate reports of vandalism and corpse-defilement. Afterward, they decide to visit an old Hardesty family homestead, and on the way, the group picks up a hitchhiker (Edwin Neal). The man speaks and acts bizarrely, and then slashes himself and Franklin with a straight razor before the group forces him out of the van. They later stop at a gas station to refuel, but the proprietor (Jim Siedow) tells them that the pumps are empty, and they continue to the homestead, intending to return to the gas station later after a fuel truck makes its delivery. Franklin tells Kirk and Pam about a local swimming hole, and the couple head off to find it. Instead, they stumble upon a nearby house; Kirk calls out asking for gas, while Pam waits on the front steps.
Receiving no answer but finding the door unlocked, Kirk enters the house, where Leatherface (Gunnar Hansen) suddenly appears and kills him. Pam enters soon after, finding the house filled with furniture made from human bones. She attempts to flee, but Leatherface catches her before she can escape, impaling her on a meathook. At sunset, Sally's boyfriend Jerry heads out from the old Hardesty house to look for the others. Finding the couple's blanket outside the house, he investigates and finds Pam still alive inside a freezer. Before he can react, Leatherface appears and murders him, stuffing Pam back inside the freezer afterward.
Read more about The Sawyer Family at Wikipedia
Official Site: New Line
Researched by: moesjr72907