| | |
| --- | --- |
| Character sourced from: Gaming | |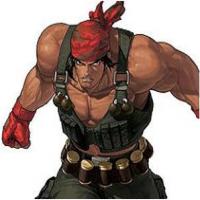 Ralf Jones
CBUB Wins: 0
CBUB Losses: 2
Win Percentage: 0%
Added by: patrickthekid
Read more about Ralf Jones at: Wikipedia
Official Site: SNK
is a video game character created by SNK Playmore (formerly SNK). Ralf has made appearance in several games from the company, premiering in TNK III as a military tank driver. The Ikari Warriors series also emphasized Ralf's role as a soldier with him becoming the partner of Clark Still. Both Ralf and Clark would also become recurring characters in The King of Fighters fighting games series in which they appear as part of the Ikari Team participating in various tournaments also while searching for various criminals. Additionally, Ralf and Clark have appeared in few games from the Metal Slug series, also developed by SNK. Ralf Jones has been voiced by Monster Maezuka from his debut, who also voices Kyoshiro Senryo, Choi Bounge and Benimaru Nikaido.
Since his appearance in Ikari Warriors Ralf was meant to be a soldier, and the SNK staff were highly inspired by the film series, Rambo. With the start of The King of Fighters, developers were focused in redesigning Ralf's character so that he would be very different from Clark, whom he shared several similarities. Ralf has been highly popular within gamers, having appeared in several popularity polls from journals. His character has also received comments from various video games publications, which praised his attributes and development in various of the games he has appeared.
Developers from Ikari Warriors were highly inspired by the film series, Rambo, when designing the game and Ralf and Clark. According to Keiko Iju, a former creator from SNK games, he needed to created "half-naked Rambos" as characters. Initially, The King of Fighters was only meant to feature characters from the Art of Fighting series and the Fatal Fury series. However, they later decided to add characters from the Ikari Warriors series along with ones from Psycho Soldier in spirit of other gaming genres considered for the final product. Designers from The King of Fighters series found problems with the addition of Ralf and Clark to the game as they were very similar. As such, the designers added new details to both characters in order to make them more unique. While Clark received sunglasses, Ralf was given as bandana. However, developers also found their fighting styles to be very similar, causing designer to adjust both of them until becoming totally different. In the making of The King of Fighters '94, Ralf was originally meant to appear shirtless. However, during the designing phase, developers felt his appearance was "a bit dated" and changed once again his outfit. In comparison to all the other characters from the game, Ralf was going to have grenades as part of his moveset, but the staff found that would be unfair for the other characters so he lost such ability. By The King of Fighters XII, Ralf's appearance was changed once again to his Ikari Warriors outfit as developers wanted to "stay true to the original concept" from The King of Fighters series.
In Ikari Warriors, Ralf's attire was based on Rambo. He wore green pants, a red headband and a belt full of bullets. In the first game from The King of Fighters series, he wore jeans and a T-shirt, along with a military vest and a red bandanna. In The King of Fighters '99 is sightly changed with green jeans, red gloves and he did not wear the belt. In The King of Fighters 2000, his outfit is once again modified but with darker colors from all his clothes. His attire from Ikari appears as alternate outfit for the character in the first Maximum Impact game. In KOF: Maximum Impact 2, Ralf retains his 2003 outfit but with a red jacket. His Armored Ralf version from the same game is very different from the original Ralf, as his skin is darker and his hair is lighter. He additionally sports a green jacket, military pants, a white t-shirt and a green headband instead of his red bandana. He was also given green protectors in his hands which have spikes. The additional outfits from the common Ralf are cosplays from Marco Rossi from the Metal Slug series and Jack Turner from the Art of Fighting series.
No match records for this character.