| | |
| --- | --- |
| Character sourced from: Horror | |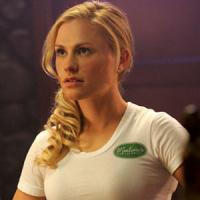 Sookie Stackhouse
CBUB Wins: 3
CBUB Losses: 0
Win Percentage: 100.00%
Added by: patrickthekid
Read more about Sookie Stackhouse at: Wikipedia
Official Site: Charlaine Harris
Sookie Stackhouse is a fictional character from Charlaine Harris's Southern Vampire Mysteries novels. She first appeared in the book series, and later in the television adaptation True Blood. The book series is a first-person account of Sookie's life as a supposedly human barmaid and telepath in the town of Bon Temps, Louisiana. The first book in the series, Dead Until Dark, won the Anthony Award for Best Paperback Mystery in 2001. Portrayed by Academy Award-winner Anna Paquin in the show, the character appears as the main character in the first episode of the series called True Blood although she does share screen time with four other lead characters as well as a number of supporting and guest characters. Paquin won a Golden Globe Award in 2009 for her portrayal of Sookie in True Blood as Best Actress in a Television Drama Series as well as a Satellite Award in a similar category.
Sookie is the protagonist of the story, and the series depicts her everyday life as she matures and leaves her sheltered life in small town Louisiana. She starts the books as a barmaid who is a telepath; there is also a focus on the everyday life of modern vampires, such creatures having recently "come out of the coffin". Sookie has many experiences with such vampires, as well as others in the supernatural community, including shapeshifters, witches, fairies and werewolves. In the television show, Sookie is introduced in True Blood as one of the local residents of the fictional town of Bon Temps, Louisiana. She lives with her grandmother Adele Hale Stackhouse, and is in close contact with her brother, Jason Stackhouse.
According to the novels, Sookie's telepathic powers manifested during her childhood, and her parents, Corbett and Michelle, initially considered her to be mentally ill, going so far as to take her to a psychologist to "have her brain scanned every other month." However, Sookie (who is the narrator of the books and stories) mentions one incident when her father asked her to "listen" in on a business meeting to discern the true intentions of a potential client. She told her father the man intended to cheat him, and her father took her advice, indicating his unspoken belief in her telepathic ability. Both Sookie's parents died in a flash flood when she was seven, leaving her and her older brother, Jason, to be raised by their paternal grandmother, Adele.
As the series begins, Sookie describes herself as someone with very little living family. One of her few relatives is a grand-uncle Bartlett, her grandmother's brother, but she hasn't seen him since she was a child, because he had molested both Sookie and her cousin, Hadley, and Hadley's mother Linda when the girls were young. Adele cast Bartlett out of her life after she found out about the sexual abuse he inflicted on her daughter and granddaughters.
No match records for this character.