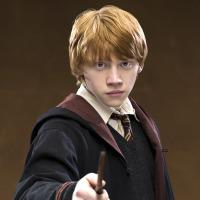 Ronald Weasley
CBUB Wins: 1
CBUB Losses: 3
Win Percentage: 25.00%
Added by: patrickthekid
Read more about Ronald Weasley at: Wikipedia
Official Site: J. K. Rowling
Ronald Bilius "Ron" Weasley is a fictional character and one of the three protagonist (the other two being Harry Potter and Hermione Granger) in the Harry Potter book series written by J. K. Rowling. His first appearance was in the first book of the series, Harry Potter and the Philosopher's Stone as the best friend of Harry Potter and Hermione Granger. He is a member of the Weasley family, a pure blood family, who reside in "The Burrow" outside Ottery St. Catchpole. Along with Harry and Hermione, he is a member of the Gryffindor house. Ron is present in most of the action throughout the series due to his friendship with Harry. In the films, he is portrayed by Rupert Grint.
According to J. K. Rowling, Ron was among the characters she created "the very first day". Ron is inspired in Rowling's best friend Sean Harris (to whom Harry Potter and the Chamber of Secrets is dedicated), but she has clearly stated that she "never set out to describe Sean in Ron, but Ron has a Sean-ish turn of phrase." Like Harris is to Rowling, Ron is "always there" when Harry needs him. The character of Ron fits many of the stereotypes expected of the sidekick; he is often used as comic relief, is loyal to the hero, and lacks much of the talent Harry possesses, at least in terms of magical power. Unlike some sidekicks, he is not cowardly, demonstrating bravery several times, such as playing 'real wizard's chess' in the first book, and entering into the Forbidden Forest with Harry during the second book despite his arachnophobia.
Some of Ron's qualities serve as foils to Harry. While Harry is an orphan with more gold than he needs, Ron comes from a large and loving but poor family; many of his possessions are hand-me-downs. Harry is famous but would prefer to avoid the spotlight; Ron, in comparison, is often perceived as a mere lackey and sometimes becomes jealous of the recognition Harry receives. Finally, Ron is the most mediocre of his siblings, being (as of the first book) neither an excellent Quidditch player, a noteworthy student, nor the daughter his mother always wanted. All these factors have combined to cause Ron serious insecurities; this inferiority complex, and his need to prove himself a notable person in his own right is the main thrust of his character growth.
Rowling first introduces Ron with his family in Harry Potter and the Philosopher's Stone. Harry is lost at King's Cross railway station and the Weasleys guide him through the barrier of Platform 9¾ into the wizarding world. Ron and Harry share a compartment on the Hogwarts Express, and they begin their friendship: Ron fascinated with the famous Harry, and Harry fascinated with the ordinary wizard Ron. It is here that they both meet Hermione Granger as well, whom they initially dislike but who later becomes their close friend after they save each other during a dangerous encounter with a mountain troll. Ron and Harry share the same classes throughout the series, and generally have similar academic successes and disappointments. Ron plays a vital part in the quest to save the Philosopher's Stone. His strategy at Wizard's Chess allows Hermione and Harry to proceed safely through a dangerous life-size, animated chess game. During the game, Ron allows his piece to be sacrificed and is subsequently knocked unconscious. At the Leaving Feast, the last dinner of the school year, Albus Dumbledore, Hogwarts' Headmaster, awards Ron fifty House points to Gryffindor for "the best-played game of chess Hogwarts has seen in many years." These last-minute points help support Gryffindor's win of the House Cup.







Images with a green border may be set as the character's main profile image.
For images 200x200 or 300x300 pixels square.