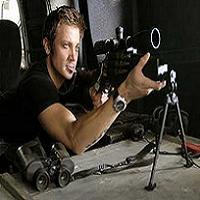 Brian Gamble
CBUB Wins: 0
CBUB Losses: 2
Win Percentage: 0%
Added by: Boratz
Read more about Brian Gamble at: Wikipedia
Official Site: Columbia Pictures
S.W.A.T. is an 2003 action film produced by Neal H. Moritz, producer of The Fast and the Furious & xXx, and is based on the 1975 television series of the same name. It was directed by Clark Johnson and stars Samuel L. Jackson, Colin Farrell, LL Cool J and Michelle Rodriguez. It was released in the United States on August 8, 2003.
The film begins with a hostage situation in Los Angeles; this was loosely based on the 1997 North Hollywood shootout. Officer Jim Street (Colin Farrell), a former Navy SEAL and hot-shot cop from the Los Angeles Police Department and his SWAT team are sent to stop a gang of robbers who have taken over a bank. His high-tempered partner and close friend Brian Gamble (Jeremy Renner) disobeys an order, and wounds a hostage. Gamble and Street are demoted by Captain Fuller (Larry Poindexter), the commander of LAPD's Metropolitan Division, who is portrayed as a fussy martinet. Gamble quits following arguments with Fuller and Street, the latter of whom is taken off the SWAT team and sent to work in the "gun cage," where he looks after gear and weapons.
The Chief of Police calls on Sergeant Daniel "Hondo" Harrelson (Samuel L. Jackson) to help re-organize the SWAT division. Hondo is transferred in, and soon puts together a diverse team, including himself, Street, Chris Sánchez (Michelle Rodriguez), Deacon Kaye (LL Cool J), T.J. McCabe (Josh Charles), and Michael Boxer (Brian Van Holt). The team trains together and develops bonds of friendship.
Meanwhile, a drug lord by the name of Alexander Montel (Olivier Martinez) has killed his father and uncle for control of the family's crime empire. Uniformed L.A.P.D. personnel stop Montel for a broken taillight, detain him, and learn through Interpol he is an international fugitive. But as Montel is transferred to prison, his associates, dressed as LAPD officers, assault the Los Angeles County Sheriff's Department bus transporting Montel in an attempt to free him. Hondo's SWAT team foils the assault. As Montel is being brought into the police station in front of a group of reporters, he yells to the TV cameras, "''I will give 100 million dollars to whoever gets me out of here!"
No match records for this character.