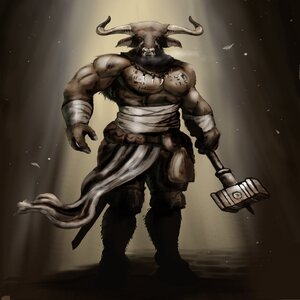 Minotaur
CBUB Wins: 2
CBUB Losses: 3
Win Percentage: 40.00%
Added by: Bloody Freak
Read more about Minotaur at: Wikipedia
Official Site: Greek Mythology
In Greek mythology, the Minotaur (Greek: , , Etruscan Θevrumineś), as the Greeks imagined him, was a creature with the head of a bull on the body of a man or, as described by Ovid, "part man and part bull". He dwelt at the center of the Cretan Labyrinth, which was an elaborate maze-like construction built for King Minos of Crete and designed by the architect Daedalus and his son Icarus who were ordered to build it to hold the Minotaur. The Minotaur was eventually killed by the Athenian founder-hero Theseus.
The term Minotaur derives from the Greek Μῑνώταυρος, etymologically compounding the name Μίνως (Minos) and the noun ταύρος "bull", translating as "(the) Bull of Minos". In Crete, the Minotaur was known by its proper name, Asterion, a name shared with Minos' foster-father.
Minotaur was originally a proper noun in reference to this mythical figure. The use of minotaur as a common noun to refer to members of a generic race of bull-headed creatures developed much later, in 20th-century fantasy genre fiction.
After he ascended the throne of Crete, Minos struggled with his brothers for the right to rule. Minos prayed to Poseidon to send him a snow-white bull, as a sign of approval. He was to sacrifice the bull in honor of Poseidon but decided to keep it instead because of its beauty. To punish Minos, Aphrodite made Pasiphaë, Minos' wife, fall madly in love with the bull from the sea, the Cretan Bull. She had the archetypal craftsman Daedalus make a wooden cow for her. Pasiphaë climbed into the bait in order to copulate with the white bull. The offspring of their coupling was the monstrous Minotaur. Pasiphaë nursed him in his infancy, but he grew and became ferocious; being the unnatural offspring of man and beast, he had no natural source of nourishment and thus devoured man for sustenance. Minos, after getting advice from the oracle at Delphi, had Daedalus construct a gigantic labyrinth to hold the Minotaur. Its location was near Minos' palace in Knossos.

Images with a green border may be set as the character's main profile image.
For images 200x200 or 300x300 pixels square.
No match records for this character.