| | |
| --- | --- |
| Character sourced from: Sci-Fi | |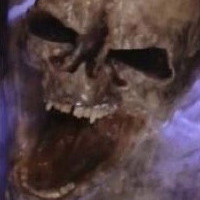 The Newborn
CBUB Wins: 0
CBUB Losses: 3
Win Percentage: 0%
Added by: Mr. Blonde
Read more about The Newborn at: Wikipedia
Official Site: 20th Century Fox
Alien Resurrection is a science fiction film released in 1997 by 20th Century Fox. Directed by French filmmaker Jean-Pierre Jeunet, the film is based on a screenplay by Joss Whedon. With a budget of $70 million, Alien Resurrection was the first film in the Alien series to be filmed outside of England at Fox studios in Los Angeles, California.
Set 200 years after the preceding installment, Alien 3, Ellen Ripley (Sigourney Weaver) is cloned and an Alien queen is surgically removed from her body. The United Systems Military hopes to breed Aliens to study and research on the spaceship USM Auriga, using human hosts kidnapped and delivered to them by a group of mercenaries. The Aliens escape their enclosures, while Ripley and the mercenaries attempt to escape and destroy the Auriga before it reaches its destination, Earth.
Alien Resurrection was released on November 26, 1997 and received mixed reviews from film critics. Roger Ebert of the Chicago Sun-Times felt "there is not a single shot in the movie to fill one with wonder", while Desson Thomson of The Washington Post said the film "satisfactorily recycles the great surprises that made the first movie so powerful".
Alien Resurrection takes place 200 years after Alien 3. Ellen Ripley (Sigourney Weaver) has been cloned on the outer space military science vessel USM Auriga using "blood samples from Fury 16 , on ice." The United Systems Military wants to extract the Alien queen embryo that was implanted in her before her death in Alien 3. After successful extraction of the embryo, the scientists decide to keep the Ripley clone alive for further study. They raise the Alien queen and collect her eggs for further use. As a result of the cloning process, during which Ripley's DNA was mixed with the Alien's, she develops enhanced strength and reflexes, acidic blood, and an empathic link with Aliens.
No match records for this character.