| | |
| --- | --- |
| Character sourced from: Horror | |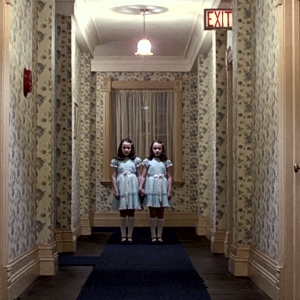 The Overlook Hotel
CBUB Wins: 5
CBUB Losses: 3
Win Percentage: 62.50%
Added by: Ash Williams
Read more about The Overlook Hotel at: Wikipedia
Official Site: Warner Bros.
The Shining is a 1980 psychological horror film directed by Stanley Kubrick, co-written with novelist Diane Johnson, and starring Jack Nicholson, Shelley Duvall, and Danny Lloyd. The film is based on the novel of the same name, by Stephen King, about a writer with a wife and young son who accepts the job of off-season caretaker at an isolated hotel. The son, who possesses psychic abilities, is able to see things in the future or past, such as the ghosts in the hotel. Soon after moving in, and after a paralyzing winter storm that leaves the family snowbound, the father becomes influenced by the supernatural presence in the haunted hotel; he descends into madness and attempts to kill his wife and son.
Unlike most films by Stanley Kubrick, which saw a slow gradual release building on word-of-mouth, The Shining was released in a manner more like a mass-market film, opening at first in just two cities on Memorial Day, and then a month later seeing a nationwide release (including drive-ins) after extensive television advertising. Although initial response to the film was mixed, later critical assessment has been more favorable and the film is now viewed as a classic of the horror genre. Martin Scorsese, writing in The Daily Beast, ranked it as one of the best horror films. Film critics, film students, and Kubrick's producer, Jan Harlan, have all remarked on the enormous influence the film has had on popular culture which ranges from other macabre thrillers to the cartoon series The Simpsons.
The family arrives at the hotel on closing day and is given a tour. The elderly African-American chef Dick Hallorann (Scatman Crothers) surprises Danny by speaking to him telepathically and offering him some ice cream. He explains to Danny that he and his grandmother shared the gift, which he calls "shining." Danny asks if there is anything to be afraid of in the hotel, particularly Room 237 . Hallorann tells Danny that the hotel itself has a "shine" to it along with many memories, not all of which are good. He strictly advises Danny to stay out of room 237.
A month passes and Jack's writing project is going nowhere. Meanwhile, Danny and Wendy have fun and go in the hotel's hedge maze; Jack discovers a model of this maze, showing Wendy and Danny inside it, in one of the hotel lounges. Wendy is concerned about the phone lines being out due to the heavy snowfall and Danny has more frightening visions. As time passes, Jack slowly starts acting strange and frustrated, often prone to violent outbursts. Danny's curiosity about Room 237 finally gets the better of him when he sees the room has been opened. Later, Danny shows up injured and visibly traumatized, causing Wendy to think that Jack has been abusing Danny. Jack wanders into the hotel's Gold Room where he meets a ghostly bartender named Lloyd (Joe Turkel) who serves him bourbon on the rocks. Jack complains to the bartender about his relationship with Wendy. Afterward, Wendy shows up and informs him that Danny told her a "crazy woman in one of the rooms" was responsible for his injuries. Jack investigates Room 237 and has an encounter with the ghost of a dead woman there, but tells Wendy he saw nothing. Wendy and Jack argue about whether Danny should be removed from the hotel and Jack returns to the Gold Room, now filled with ghosts having a costume party. Here, he meets who he believes is the ghost of the previous caretaker, Grady (Philip Stone), who tells Jack that he must "correct" his wife and child. Later, Jack sabotages the hotel's two-way radio and the snowcat, cutting off both communication with and access to the outside world.

Images with a green border may be set as the character's main profile image.
For images 200x200 or 300x300 pixels square.