| | |
| --- | --- |
| Character sourced from: Anime | |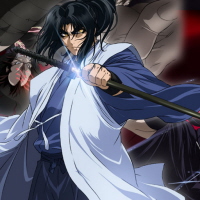 Kouga Ninja Clan
CBUB Wins: 0
CBUB Losses: 2
Win Percentage: 0%
Added by: Destros
Read more about Kouga Ninja Clan at: Wikipedia
Official Site: Futaro Yamada
is a Japanese manga and anime series. The manga was authored by Masaki Segawa and published in Japan in 2003 and 2004, based on the novel The Kouga Ninja Scrolls by Futaro Yamada published in 1958. The anime, produced in 2005 by Gonzo Studios, closely follows the manga aside from a handful of distinctions. The manga won the 2004 Kodansha Manga Award for general manga. The manga was later followed by a sequel series titled The Yagyu Ninja Scrolls which was also based on a novel by Futaro Yamada.
The story takes place in the year 1614. Two ninja clans, Tsubagakure of the Iga and Manjidani of Kouga, battle each other to determine which grandson of Tokugawa Ieyasu will become the next shogun. The deadly competition between 10 elite ninja from each clan unleashes a centuries-old hatred that threatens to destroy all hope for peace between them.
At the dawn of Japan's Azuchi-Momoyama period (the late 16th century) two rival clan of Ninja, the Iga Tsubagakure and Kouga Manjidani, are engaged in a bitter blood feud that has spanned for centuries. The fighting finally ends when Hattori Hanzo the 1st succeeds in forging a cease fire between the two clans by conscripting both into the service of Tokugawa Ieyasu (the man who seized power to become Shogun and form Japan's first truly stable form of centralized government). Regardless, hostilities and bad blood remain between Kouga and Iga, ensuring a tenuous co-existence at best.
Fast forward to the year 1614; Ieyasu has retired from power (although he still wields considerable influence within the government) and passed the torch to his son Hidetada. Unfortunately, a succession dispute has risen concerning which of Ieyasu's grandsons are destined to take up the reins of power when their father finally decides to step down. The various government retainers are beginning to take sides and the Tokugawa Shogunate is on the verge of tearing itself apart.
No match records for this character.