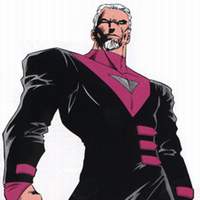 Bastion
CBUB Wins: 0
CBUB Losses: 1
Win Percentage: 0%
Added by: Joecorp
Read more about Bastion at: Wikipedia
Official Site: Marvel
Bastion is a supervillain that appears in the fictional Marvel Universe. The character was created by Scott Lobdell and Pascual Ferry and first made a cameo appearance in X-Men #52 (May 1996). His first full appearance was Uncanny X-Men #333 (June 1996). He also appears in the video game X-Men: Next Dimension for GameCube, Xbox and PlayStation 2 (October 2002).
Bastion started life out as two separate beings: the Sentinel Master Mold, and Nimrod, a highly-advanced Sentinel from an alternate future. While posing as a human construction worker, Nimrod unearthed a module from Master Mold. As soon as Nimrod made physical contact with the module, Master Mold's programming began to co-opt Nimrod's. Shortly after, during a conflict with the X-Men, the two of them, along with the X-Man Rogue, were blasted through the Siege Perilous, a mystical crystal capable of judging any who pass through it and reincarnating them into a new life commensurate in quality with their previous life. It was the Siege Perilous that was responsible for merging Nimrod and Master Mold into a single man of flesh with no memory of his past. Bastion was taken in by a woman named Rose Gilberti. Living with Rose, Bastion began to hear about America's mutant problem. At some point, Bastion fell in with anti-mutant groups, like Graydon Creed's Friends of Humanity.
In time, Bastion worked his way "up the ladder" in the U.S. Government. Unwittingly, Bastion was able to develop a new type of Sentinel, the Prime Sentinels.
Two events, the fallout of Onslaught and the death of Graydon Creed, were the ammunition needed to initiate Bastion's Operation: Zero Tolerance, which attacked mutants everywhere. The operation succeeded in capturing Jubilee and some members of the X-Men, taking direct control over the Xavier Institute for Higher Learning, and gaining possession of the Xavier Protocols, a list of files containing information on killing the X-Men.
No match records for this character.
Regular play Record:
| Result | Opponent | A Score | | B Score |
| --- | --- | --- | --- | --- |
| Loss | The Vision | 9 | to | 11 |